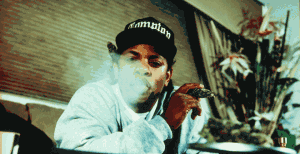 Yesterday, the 26th of March, marked the 17th anniversary of the death of the West Coast rapper Eazy-E, who's name lives on as one of the true legends of Hip-Hop. It is hard to fathom the impact Eazy has had on the genre, yet today's rappers are no doubt steeped in the history that Eazy E helped create, both independently and through his work with NWA. We thought there is no better way to celebrate this artist than to remember some of his classic videos, so sit back click play, and enjoy.
1. Just Tah Let You Know (1995)

2. Only if You Want it (1992)

3. Real Muthaphukkin G's (1993)

4. We Want Eazy (1989)

5. Any Last Werdz (1994)

6. Eazy Er Said than Dunn (1988)

RapIreland.com is your #1 source for celebrity news, gigs, exclusive videos and all the latest in the world of hip hop and R&B music.