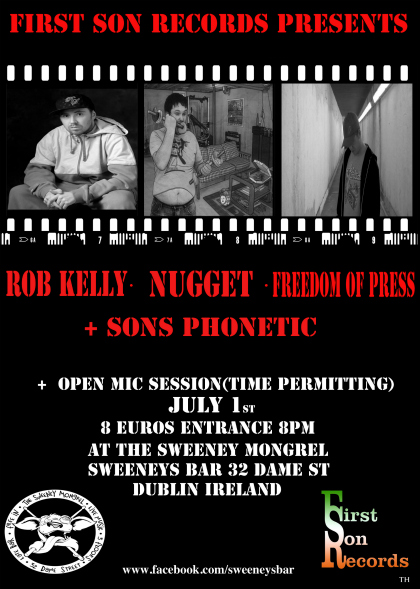 First Son Records present an evening of UK and Irish Hiphop live at Sweeeney's Bar, Dublin – July 1st.
UK underground standouts Freedom Of Press make their Dublin debut, sharing a bill with the best in Irish Hiphop. Wexford rapper Rob Kelly headlines the night – with Dublin battle king Nugget and acclaimed Waterford crew Sons Phonetic completing the line up. This is one for true fans of the art of rhyme.
Doors: 8pm // Admission: 8 Euro.
'Verified' – the new EP by Freedom Of Press – is available now as a free download from First Son Records. Check it out below.
Rob Kelly – Crazy

Nugget – Irish Tune

Sons Phonetic – Danger Danger