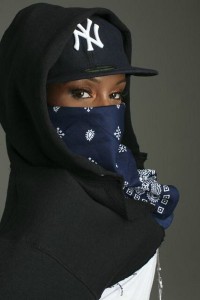 After signing Kidd Kidd and Genasis to G-Unit Records, and Jersey Shore's DJ Pauly D to the G-Note Records, some would say 50 Cent is rebuilding his record company for a big 2012. The most talked about signing is Queens female rapper Paris aka Precious Paris. In a recent interview with DJ Whoo Kid, Fif explained how he came about signing the rapper.
"Paris has been around for a while. She's not like a new jack that just came in. Actually, I've known her for about over a year," he explained. "She's from my neighborhood…I just didn't jump and say I want to do this project. I waited until she was ready, until now it's like, it's easy. You have to do it, it's too good to let it sit…when you look at the material that she brought, it was so good that it was like, 'Aight, now you're ready'…I didn't want to go get an artist that you gotta go sit there to coach them through the whole process. She doesn't require that at this point, she's been working at it for quite some time…she's signed, we're finishing up her actual deal points now."
Paris is excited about joining 50 Cent and his G-Unit roster. The Queens native says that she looks forward to breaking through on the label, and she's aware that there isn't a lot of female energy in hip hop right now.
She also knows that she will be getting compared to a certain wig-wearing Young Money rapper.
"I've been working with Fif for a minute, I've been doing a lot of vocals for him. That's how we actually met," Paris told DJ Whoo Kid. "I met him as a writer. I guess he just recognized the talent and I'm naturally like him anyway I guess because I'm from Southside Jamaica Queens. … I'm signed to G-Unit and I'm ready to hold them down. Whatever I have to do. I'm going to hold them down. … I'm not really looking at it as competition [with Nicki Minaj], because we're like in two different lanes, actually. She went somewhere else and I'm going somewhere else [with the music] where you can really see where I'm going in 2012. So I'm not mad at her, what she's doing, I love what she's doing, she's making money and I do not oppose to any female making money. There's only one girl in the game so how can you be mad at anything? There's room for me, there's room for me. So, as far as comparisons, yeah, everybody's gonna do that but if you want to compare me to somebody else, great, it's somebody that's making money. That's fine."
Are you looking forward to hearing matieral from the female gangster rapper?
Check out 50 and Paris' track 'Queens, NY'