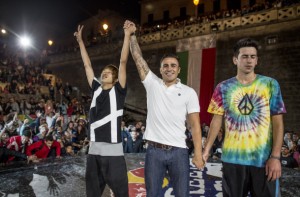 Daniel Dennehy, better known on the Irish Hip-Hop scene as Daniel Scenery, showed just how multi-faceted his talents are, coming as a rank outsider to finish in second place at the Red Bull Street Style World Finals in Lecce, Italy over the weekend.
The massive international tournament brought together the world's top freestyling talent to compete on a global stage in front of thousands of fans.
Dennehy, pictured here alongside Italian great Cannavaro, fought through the Irish heats before progressing to the World Finals. To see a glimpse of the sheer talent involved by all competitors, have a watch of the video below.
Congratulations from all at Rap Ireland!