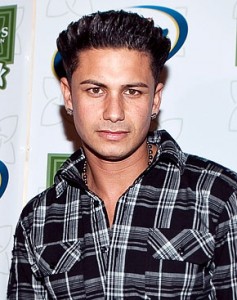 Just the other day, 50 Cent and Pauly D were Tweeting back and forth about a meeting they had in New York. Well now TMZ and many other Websites are reporting that DJ Pauly D is extremely close to joining 50 Cent's G-Unit Records.
The reality star, who appeared at a screening of 50's film "Things Fall Apart" last week, is said to have met with 50 in New York City last week to discuss a three-album record deal for the Jersey Shore star and also tossed around the idea of a merchandise line for the Guido, specifically Pauly D-brand headphones similar to the Sleek headphones 50 is about to launch .
Sources also told TMZ that talks have become so serious that 50 and Pauly have even started to kick around ideas for people Pauly can collaborate with, Curtis is also looking to complete the deal before Pauly heads over to Italy to shoot the upcoming season 4 of Jersey Shore.