Dublin rap group The Animators are rushing the Irish HipHop scene with their fresh sound and combined talents as emcee's, producers and vocalists. They have just released the video for their first single How Does It Feel.
The group consists of eight members, who each bring their own piece to the table. A quick breakdown and in no particular order you have ;
Mango from Malahide: emcee.

Dizzy from Swords: emcee/producer.

Smokey Jay from Harold's Cross: vocalist.

Alan Newman from Inchicore: producer.

Woody from Blanchardstown: vocalist/emcee.

Rhymes Vital from Waterford: producer/emcee.

Mr. HighSpeed from Blanchardstown: emcee/producer.

Dave Treacy from Blanchardstown:  DJ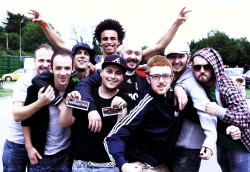 The video is directed by Ovie Etseyatse and was shot in the Phoenix Park in Dublin. It really catches the whole vibe of the song, from the lighting, to each individual scene. The strong positivity and Summer time vibe of this track is constant and even reminiscent of an early 90′s block party in New York, except on a smaller scale. The whole concept of people just coming out, showing support, and having a good time together, really brings a feel for that old skool unity in HipHop, and this track carries that same emotion.
The track is produced by Alan Newman and starts with a nice bright key sample that's let loose as the beat drops. The track has a nice pulsating feel as the keys lift it and the bright live sounding hats give it a nice raw effect. Dizzy drops in first to set the positive vibe of the track ;
"Hows everybody feeling? I'm feeling fine
feet on solid ground, like the world is mine."
Next up is Smokey Jay on the catchy hook that engulfs your head like a soft cooling breeze ;
"How does it feel, tonight babe
The light is shining bright."
HighSpeed then puts his own stamp on the track with that graphic word flow, planting quick, positive imagery in your head with lines like;
"Rick with the slick sly smile my goodness,
great balls of fire let me rip shit up!!
Its whoop de whoop, alley-oop, Jordan slamming hoops
banging rawness, the whole kit and kaboodle"
The track slides along oozing the positive Summer vibe and each verse and hook holds that from beginning to end. Adding his own twist for the final verse Mango drops in his uplifting part ;
"Feeling pretty good with all things considered,
Cos I shoudn't be here I should'a died last Winter
But right at the last minute God musta changed his mind
Not even gonna lie, I was afraid to die"
This lazy track is perfect for the style these emcees bring to it. With each adding their own flavour and flow, changing up the pace of the track as it just breezes on by.
One thing for sure is that these guys aren't going anywhere. The album is in the works and they're already preparing for their next video. Watch this space……..