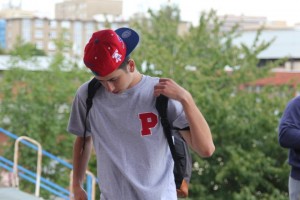 Dlyrious has emerged as one of this years most exciting new arrivals to Irish rap. His unique perspective and effortless flow have made him one to watch in the ever expanding Dublin Hiphop scene. After only a matter of months in the game, he has already completed work on his debut mixtape 'Take Flight', which drops early next week. Rap Ireland caught up with Dlyrious as he was preparing for the release to discuss everything from his start in Hiphop to his stint on the All Ireland Talent Show.
You have an interesting background. For those who don't yet know, tell us a little bit about who you are?
My Name is Daniel Dennehy. I'm 20 years old. I was born in San Francisco, California to a Brazilian mother and an Irish father – so not quite your typical upbringing anyway. I lived in San Francisco until I was about 11, from there I moved to Brazil, then when I was 13 I moved to Dublin, and I have been here ever since.

Do you feel that type of upbringing has influenced your music?
Yeah, definitely. I was always a big fan of Hiphop from very young. In America there was obviously a lot of Hiphop on different radio stations. I can remember just coming home from school and browsing through the different stations trying to find one which was playing Hiphop. San Francisco is a really culturally diverse city, so there was always a lot of stuff going on there. Then when I went to Brazil, there was the whole tropical, samba influence and that kind of sound. I actually use a lot of beats that have an exotic/tropical/samba type style. I would definitely say that where I have been in life has influenced my musical style. I have played the drums since I was 12, and that has also given me a better ability to understand music and flow properly over beats.
You said you were always a Hiphop head growing up. When did you finally decide to pick up the mic?
I started writing rhymes when I was about 16 just for fun. I used to listen to a lot of the classic stuff: Jay-Z, BIG, 2Pac, whatever. It was only about six or seven months ago that I decided this was something I wanted to do seriously. I invested about 600 Euros into recording equipment. I set it up myself at home and learned how to use it. I thought myself how to record and mix tracks, so I have only really been recording for about the last six months or so.
At that point were you aware of an Irish Hiphop scene?

Yeah, I was very aware of what was going on locally. I listened to a lot of the Class A'z – I always bought their albums and mixtapes and stuff. I had checked out Rap Ireland and the Irish Hiphop forum, so I knew all the guys like Terawrizt, Redzer, Nu-Centz and all those kind of guys. When I started rapping I got to know some of the lesser known artists to and they were equally as good.
Something always discussed with relation to Irish rappers is the accent. I know it's something you get asked about a lot. I guess there are a lot of rappers who adopt a false persona on tracks, so it's something people can be skeptical about – perhaps not knowing that you actually grew up in America. How do you feel about that?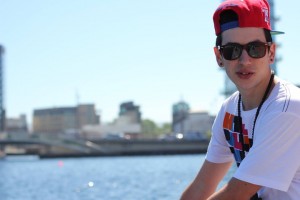 I think they're right to question it. When they hear me rap in an American accent….Well, it's not really an American accent per se because when I play my tracks to Americans, they wouldn't identify it as being American sounding. It's not an American accent, but it's definitely not Irish either, it's a mixture. I just try explain the truth to people.
I'm not going to lie; at the beginning I felt an entitlement to use a very American accent seen as a I grew up in America. I was using slang I wouldn't normally use, so I was adopting a false persona like you said. I realized very quickly that it wasn't me and since then I have been completely real with myself. I felt kind of embarrassed because it wasn't a real portrayal of who I was.
Now if I get asked about it, I usually just explain my background to people and after that they will just say that's cool; I didn't know. Once I cleared that up, everybody was actually very supportive. I post music videos and stuff on the Irish Hiphop forum and they have been getting a good response, so I just want to thank everyone who has shown support on the sites.
OK, you have your first mixtape 'Take Flight' just about ready to go. Tell us about that project?
Take Flight is basically inspired by events that have happened in the last year of my life. I'm a professional football freestyler; that's my main profession. I study as well – I'm a student at DCU studying communications – but football freestyle is what I do. I have traveled all around the world doing showcases and competitions with it. There was a point last year where I visited six or seven countries in the space of two months. I felt like I was living on airplanes a lot; it was flight after flight after flight. Then obviously I traveled a lot growing up to, so I have always enjoyed that whole experience. I just thought it was a cool concept to go with for the mixtape.
You have DJ MO-K hosting it. He's somebody that readers of Rap Ireland will be very familiar with. How did that come about?
I followed MO-K on Twitter a few months back. I had some really shit tracks back then and I asked him to check them out when he had the chance. He listened to them and was like that's cool; you're not at a good level yet but I see potential – Keep going and when you make something which you feel is a step up from this, come back to me and I will have another listen. I just started interacting with him like that. Then I met him at a gig a while later and I told him about the mixtape and asked would he be up for hosting it. He said he liked my sound and where I was going with it, so he would be more than happy to associate his name with it. I have met him a few times since then. One time he kindly invited me to the studio when Class A'z were recording. So MO-k is definitely somebody I look up to in the Irish Hiphop scene. He's probably the most well respected DJ in Ireland; to have his name on the project is really an honour for me.
You have a new video coming out to. Is that right?
Yeah, I'm recording it tomorrow actually. It's for a track off the mixtape called "High Class Living". That should be up online within a few days. Once that's ready, I will be dropping the mixtape on the same day, so look out for both of those inside the next week or so.
What about live shows? Will you be gigging in support of the release?
I would love to be doing some gigs, but at the same time, I have never done a full Hiphop show. I have done some open mics and stuff, but I have never had a gig where I go out and perform a full set of tracks I have written. I haven't gotten that opportunity. I don't want to go out there and work for a gig and have two people at it. I feel at this stage I'm not at a level where I would be getting a lot of people to come to my shows. Even my friends back home aren't into Hiphop, so I don't think I would be able to get a huge audience. I would love to open for someone, I would love to be apart of any other gigs people have in mind, but in terms of organizing my own gigs, I still have a long way to go. I feel like I'm still developing my sound right now.
Just to switch gears for a moment, you also appeared on the All Ireland Talent Show. It wasn't for your rapping skills though, but rather for your talent as a football freestyler. What was that like as an experience? Are you glad you did it?
Yeah, I'm very glad I did it. It was tough work, but it was great to see the hard work pay off. I had to choreograph my own routines, select the music and everything. I went a very long way from the beginning all the way to the quarter final live show. It was a cool experience. I had actually performed on TV before. When I went to Brazil two years ago, I ended up doing a lot of stuff with freestyle football on TV over there. It wasn't really a new experience, but the judging aspect was new. I really enjoyed putting myself up against other acts and coming up with my own routines. It was really good.
When you rap you are Dlyrious, but as a football freestyler, you are just Dan. Are they two aspects of what you do that you want to keep some distance between?
It's funny you should say that because I was actually thinking about changing my freestyle name to Dlyrious to keep it all under the one persona. A lot of freestylers have cool nicknames, then when I show up at the competition, it's just like….here's Dan. I might make my next freestyle football video under the name Dlyrious and have them both as the same persona, but I'm not sure about that yet. I like keeping them separate but they do intertwine. A lot of the things I rap about relate to what I do as a football freestyler, so it's hard to keep them completely separate.
In the past we have seen some football freestyle battles at a few of the DFI events. Is that something you would entertain doing if the opportunity came up?
Definitely. The guy who did it, Mark, is one of my best mates. I freestyle with him all the time. I was talking to Terawrizt and he might want to get a regular league going parallel to DFI, where there would be battles between football freestylers at the events. That would definitely be cool.
What is the next step for you as an artist? After the mixtape drops, where do you go from here?

I'm 100% sure that I will drop another mixtape before the end of the year because the way I'm going now; I'm making a track every single day. The mixtape has changed like five times since two weeks ago because I keep making new tracks which I feel are better than the older ones. There's been a core eight or nine tracks which have been consistent because I'm really happy with them, but there's another three or four I keep chopping and changing. I'm sure I'm going to make another mixtape, hopefully much better than this one, in a couple of months or whatever. After that I would love to open for some big artists. I don't know, for example, Wiz Khalifa is coming here in November. I think that's a bit to early because I don't have the experience yet, but if something like that was to happen twelve months down the line and I was ready for it, I would love to get the opportunity to open for somebody like that. That would definitely be the next stage.
Take Flight by Dlyrious is released August 28th. It will be available as a free download on RapIreland.com
For more on Dlyrious check out: Twitter / Facebook / Youtube