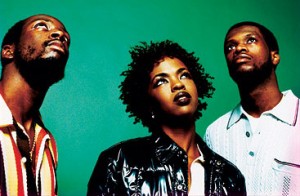 Today we're going to have a look at one of the greatest Hip Hop groups of all time: The Fugees. The Fugees take their name from the often derogatory word "refugee" as Wyclef Jean and Pras Michel both come from Haiti while Lauryn Hill is American.
Their debut album Blunted On Reality was released in 1994. Whilst two of the singles, Nappy Head and Vocab, were underground successes, the album itself did not fair well on the commercial market. This album however did help the group to explore the music scene experimentally and help their second album The Score become a huge success and Grammy award winner.
The Score is most well known for the then updated covers of classic songs such as Bob Marley's No Woman, No Cry and Roberta Flack's Killing Me Softly,which has gone on to be the group's signature song. Despite the success of the sophomore album, the group split in 1997 and went on to do their own projects. Lauryn went on to release the critically acclaimed The Miseducation of Lauryn Hill, Wyclef went on to produce hits for other artists and release his own solo album The Carnival and Pras went on to do soundtrack recordings and work on an acting career.
The group tried a comeback in 2004 and there were even rumors of a new album in the works. But due to Lauryn's erratic behaviour and deteriorating mental health the group finally called it quits. Pras and Wyclef have both gone on record and said that the group would no longer attempt another comeback unless Lauryn received the professional help she needed.