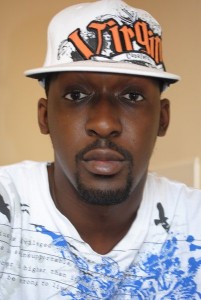 This coming July bank holiday weekend sees the Waterford Music Fest's debut, a star studded affair that is being headlined by none other than 50 Cent. The Festival features a variety of acts but really holds it down on it's urban line-up, which includes ; Flo Rida, G-Unit, DJ Ahmed and The Original Rudeboys. But there is one other name high up on that list, a guy who goes by the name Venem.
Venem was born and raised in a rough part of North Philadelphia. As a young boy, after following his hard-working, single mother from place to place looking for a home, he finally settled in with family in Mt. Pleasant, PA. It was around this time, that Venem became involved with the street life. Also at this time, the late 80s and early 90s, the revered golden era of HipHop, is when Venem as a pre-teen got engulfed with HipHop music and culture. The timing was perfect for Venem, his hard street life experiences and perspectives now had an outlet and company in the musical genre that he was now en-fused with.
After several run-ins with the law and being expelled from school, Venem moved with his family to the suburbs of Northern Virginia in search of a better life. A quiet, affluent suburb lacking in ethnic diversity, was hell for a city boy fresh off the streets. At the tender age of 17 he wrote, produced, mixed and engineered his first album: Unsigned Hype. With rough, gritty lyrics over hard-knock, sample-free beats, Venem made a local classic that was loved for its battle-rap style and musical originality.
In 2004, Venem released his first official mixtape, Spittin Venom Vol. 1 which revealed a refinement of range, flow and delivery in songs like 'Venem's Town'.
"My team money green, leprechaun's with the luck/Commit felonies with Miss Demeanor passing the dutch/While you been talking tough, like an ad-lib from Puff/I been nice with this stuff since Homer Simpson drank Duff"
The song caught the attention of DJ Whoo Kid of G-Unit, who played it on renowned rapper Eminem's satellite radio station. Touching on explosive topics such as crime in America and government corruption, Venem earned a coveted spot on MTV's Mixtape Monday. Spittin Venom Vol. 1 was one of the few mixtapes to be featured with the likes of Papoose and Young Buck in MTV's Shaheem Reid's Don't Sleep column.
In 2005, Venem released the critically-acclaimed Spittin Venom Vol. 2, hosted by DJ Young Legend of Tapemasters Inc and Black Wall Street. A well-rounded CD with thought-provoking lyrics on everything from street life to love and relationships, it gave listeners a deeper insight into Venem – the artist – and from whence he came. Connecting with former Black Wall Street recording artist, Heat, fellow VA artist, J-Roc, and up and coming producer, Manny Perez, for one of the grittier tracks on the album, Remember Me. But it would be the vicious freestyle track, Blackout, that would land Venem a spot on DJ Big Mike's,Big Boy Game 10. Mixing clever metaphors, while keeping it real with his lifestyle.
"I'm your worst nightmare, Hakeem having dreams/Rockets in your eye sockets, whistle like steam/Add heat to the pot, but I don't cook rock/Never learned that trade but I still earn guap"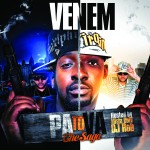 Since dropping his second mixtape, Venem has been working hard on PA to VA: The Saga, which was released in March of 2011. He has already received plenty of worldwide airplay on radio and mixtapes and has been gaining major exposure at many shows. Appearing on mixtapes by DJ Duke, DJ Mami Fresh, Tha Tzar, Mr. 08, and DJ Heat, Venem has got countless spins with songs such as Call Me Daddy, Primitive, and Change Gon' Come, featuring the rapper/singer R.I.C.A.
Venem continues to grind hard and is presently awaiting the release of his first studio album No Antidote which is due for release this month. He is also deep into recording his next studio album Dark Origin which should be due by the end of this year, so he is heavy on his grind and dedicated to getting 'Real HipHop' back on the scene.
Venem grew up listening to a lot of Wu-Tang, Biggie, Canibus, Ras Kass, etc. A lot of street, yet lyrical artists and started his career spitting battle raps and more street songs. As he grew older and more experienced he went back and caught up on 2Pac who is a huge influence of his, not just for his street presence, but also the fact that he spoke with such realness you had to pay attention. He didn't glorify it, he spoke on social issues, women in society, but still could make some of the greatest crossover hits in history. From then on he made it a point to find more artists like this, The Roots, Mos Def, Talib Kweli, Dead Prez, etc. But still kept an ear out for what's 'hot' so as to know what the fans are in tune with.
Venem has worked with a host of top MC's, Producers, and DJ's, including:
MCs:
Heat (Blackwall St.) J-Roc, A.C.E., G. Hector, Beezo, Untamed G, Rellik, Jigsaw, Chrysanthi, T.K., RICA, Miss Lola, Jonny Kash, S.K
Producers:
Vybe, MIDIMarc, DJ Quote, Manny Perez, Purpz Beats, J Phaytul, Mr. Red Riding Hood, DJ Duke, The Grinch, Knoxbonikz, Riz Delux, The Grinch, Monkey Donk Productions, Soul Theory, Allrounda, Serge Deff, Da Beat Bully, Blaze, Billy D
DJ's:
DJ Big Mike, EZ Street, DJ Rob, DJ Young Legend (Blackwall St.), DJ Mami Fresh, Dj Easy, DJ Lean, DJ Nominal, Tha Tzar, Mr. 08, DJ Duke
The greatest asset that Venem has is the fact that he is raw HipHop, untouched by the major labels in a creative way, untouched by the commercial side of the game. His lyrics are about real issues and real situations, you cannot label him as 'gangsta', 'drug' or a 'conscience' rapper but he has an element of all but only because these are real issues. To quote the late great Tupac Shakur ;
"If I keep talkin about how dirty these streets are out here, then maybe somebody will come and clean them up."
This sums up the lyrical content of Venem, sometimes a conscious rapper, sometimes street, but always real. Nas came out with the album HipHop Is Dead back in late 2006 and was misunderstood by a lot of people but his main reason was to get people aware of the fakeness in HipHop and to get back to that 90s heyday. The likes of KRS1, Rakim and those who rap for the love of the culture. This is Venem…. a rare gem in the modern culture that is HipHop. A lot of HipHop fans nowadays are too young to have ever experienced what this culture is about when it comes to MC's in this game, as modern rappers get caught up in all this false hardness and fakeness. With Venem all you get is 'real', and personally for me this guy is the headline for this gig. Go check out his latest release PA to VA: The Saga and see for yourself whats in store, I guarantee this is a guy you don't want to miss. His hunger and dedication alone will guarantee a performance not to be missed and add to that his lyrical wordplay, skill and how he portrays a vivid picture of the street life like an artist paints a picture.
Venem plays at the Waterford Music Fest on Saturday July 30th at the Regional Sports Centre along with 50 Cent, G-Unit, Flo Rida, Faithless, The Original Rudeboys, Shayne Ward, DJ Ahmed and many more.