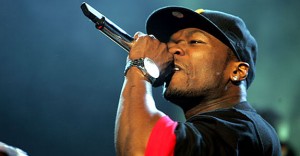 G-Unit boss 50 Cent has continued to air his label grievances via Twitter. The rapper explained why he has decided to not support his future recordings and how wide the rift between he and his label has become. 50 went so far as to declare that he does not have faith in Interscope Records.
"I have lost all faith in the team I'm on. I have nothing left to say I will not be promoting my music," he wrote. 'I'm going to deliver this album then. I have a film I wrote to focus on I'm not upset I'm just convinced this is not how I want to remembered."
He now even thinks that he wont live for much longer in the bizarre statement to his Twitter followers he wrote, "I'll be honest I don't think I'm gonna live much longer. That's why I started my street king movement. I want to mean more in other peoples lives," he added. "I mixed the big 10 because everything I do has to be the best I can make it cause other artist will create after hearing the ideas."
Hopefully he will be around long enough to feed the 1 billion people he is aiming to reach out to with his energy drink Street King. 50 also recently shared the information that he has made a deal with the soft drink giant Pepsi. 50's Street King purchases are being used to help combat hunger in Africa and have being on sale in America since September 2011.
"I did a deal with Pepsi to distribute streetking its gonna be every were buy a bottle feed some one in need," 50 tweeted. Every Street King that is purchased leads directly to a meal for a hungry child.