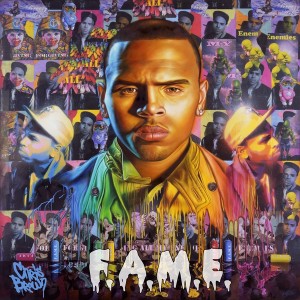 F.A.M.E is an absolute bomb of an album. Lil Wayne, Tyga, Busta Rhymes, Justin Bieber, Ludacris and Benny Benassi all feature on this album, whose musical styles are as diverse as the cast of featured artists.
The singles 'Yeah x3′ and 'She Ain't You'  have already and comfortably done well on the charts. The track 'Beautiful People' featuring Benny Bennassi follows the latest trend for urban artists striving to diversify their music by venturing out of their own hip-hop comfort zone. This song is fused with electro dance and the right amounts of pop elements which would appeal to many dance music lovers. By doing such a track Chris Breezy is gradually rebuilding his decimated fan-base, including many of those fans that he lost during the Ri- Ri scandal.
The music is simply irresistable and his body-popping moves are very hard to ignore. The video for 'Beautiful People' features a host of urban stars, and sees Chris Brown displaying a raucous collection of unorthodox dance moves that reflect much of what this album is about.
Ricky's Rating: 3.5/5.0 – Thumbs up for unleashing this cluster-bomb of an album.
BUY CHRIS BROWN "F.A.M.E" IN THE RAP IRELAND STORE NOW