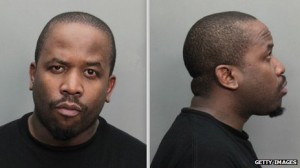 Grammy Award-winning Outkast rapper Big Boi will avoid jail on drug charges in Florida if he passes several drug tests and performs community service.
The star, real name Antwan Patton, was arrested in Miami after disembarking a cruise ship with friends in August and being stopped by a Police K-9 unit and subsequently searched. He was accused of having drugs including ecstasy and MDMA powder in his possession along with Viagra and other drug paraphernalia.
The talented rapper and producer was then taken into custody, booked and later released on a $16,000 bond, with his Atlanta-based attorney, Daniel Kane, vowing at the time that he would be "exonerated." At a court hearing, the 36-year-old rapper accepted an agreement that could lead to the two drug possession charges he faces being dropped.
The charges will be dropped if he remains drug-free and stays out of trouble for three months. According to the Miami prosecutors office Big Boi will be required to report to court for monthly drug tests for three months. He must also complete 30 hours of community service and donate $2,000 (£1,271) to charities. The rapper is eligible for the monitoring programme because he has a clean record and does not have any history or evidence of substance abuse problems.
In a statement his attorney confirmed "The state agrees to dismiss the charges as long as Big Boi returns two more times and drops clean urine, provides a donation [to charity] and performs 10 hours a week of community service," The Atlanta-based rapper whilst apparently saying little during the hearing did, according to NBC Miami, tell the court "God Bless America" on his way out.
An obviously relieved Big Boi then took to twitter to express his thanks to God and to clarify the outcome of the hearing.
"God is Great!…@BibleWisdoms: God is light. There's no darkness in him – 1 John 1:5," he tweeted..
He also denied reports that he took a plea deal.
"It's a PEE deal, Not a Plea deal. The Associated press got it wrong, Big Daniel Kane worked it out, Stank You," he wrote.
The stars attorney also clarified to E! News that the proceeding was "not a plea deal where someone admits something"; rather, he said, the Grammy winner agreed to enter a program which the court makes available "across the board." "There's nothing special being done for Big Boi," he said.