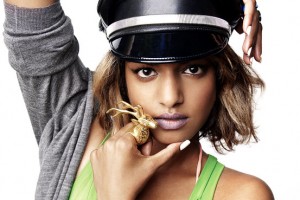 Tamil rapper M.I.A. has recenetly released an unfinished demo titled '27′ as a tribute to the late Amy Winehouse. Within hours of Amy's passing, M.I.A. took to Twitter and stated "i recorded this song B4 vickileekx and never put it out. its a unfinished demo. R.I.P A.M.Y".
On her soundcloud page, M.I.A stated that the track was dedicated to all her friends who died at the age of 27. Amy joins a long list of famous musicians, dubbed 'The 27 Club' who died at this age- including Jim Morrison, Kurt Cobain, Jimi Hendrix, and Janis Joplin.
The song takes a rather poignant look at addiction, "You blew that money on a mountain of drugs" and " When I left, you befriended a rope And I saw you both were hanging", with some fans stating that it is a more honest tribute than what Russel Brand did. Other fans have critiqued the song stating that the song was released too early or in bad taste, and that M.I.A. is just using the death of Amy for a bit of attention.
Decide for yourself- Check out the track and lyrics below:
Lyrics
said your all mouth and no brains
all rock stars go to heaven
you said you'll be dead at 27
when we drunk in a English tavern
the owner poured you the Bourbon
and you drunk your self so rotten
he got so rich he bought a Bentley
and moved himself to Devon

you started dirty dancing
and you bar tended a dozen
i took you to the clinic
to get you clean but you couldn't
said in 2 days ur 27 and and ur destiny was comin
and ur papa passed so sudden
and left you with lil somin

you blew that money on a mountain of drugs
and staged your self a bedin
a month later when i popped in
your still high but the winter set in
i bought you a coffee and a muffin
and you quoted me some Lenin
i wished i was that clever
but thats what kept me coming
your friendship did mean somin
but you left me for nothin
when i left, you befriended a rope
and i found you both were hanging.