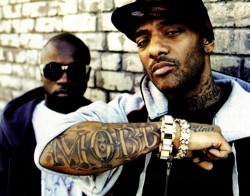 Fans of Mobb Deep will be happy to hear that new music is on the way! The Queen's duo announced several weeks ago that they would be releasing an EP on Black Friday November 25th. Dropping the day after Thanksgiving in America, the project will be the Infamous' first release of all-new material in five years. While details of the EP have been scarce, the title of the project was revealed to fans over the weekend.
The Alchemist has revealed the title for Mobb Deep's upcoming release on his Twitter page "Mobb Deep : 'The Black Cocaine EP,'" the producer tweeted. Alchemist, who's worked with Mobb Deep on several projects in the past and is helping out with the production on the EP, with additional production also coming from J.U.S.T.I.C.E. League, and Young Free. The EP will consist of seven or eight songs.
The duo recently announced a deal with Sony's RED to distribute projects released on their Infamous Records shingle.
"After almost 20 years in this industry, it was inevitable for us to take matters into our own hands. We feel that RED is the perfect home for our brand," Prodigy told MTV News. "We know who our fans are and what they want from Mobb Deep. We're excited to take a new step in our career," added Havoc.