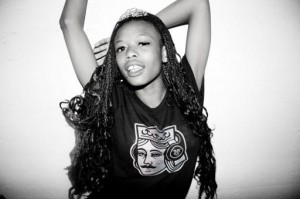 Here at Rap Ireland we do our best to bring you up to the minute news on your favourite hip hop artists, re-visit the classics, and introduce you to the fresh new sounds. So with great pleasure, I would like to introduce you to Dominique Young Unique. This 19 year old Tampa Bay rapper is already in the same league as Nicki Minaj and Rye Rye. Nicki rules the hip hop side of rapping, Rye Rye rules the club side, but with Miss Unique this chick is going to rule the underground side of rap.
Dominique has released two mixtapes (which are both free to download on her Facebook and website) and both mixtapes are full of underground floor fillers. Each song features extremely heavy bass and is layered with Dominique's staccato vocals, the same vocal style incorporated by Baltimore rapper Rye Rye. Amongst the range of impressive tracks, there is one tune in particular that deserves a stand out mention. The second mixtape, Glamorous Touch, features an amazing track titled My Turning. The track heavily samples the music of Justin Bieber's Baby with some of the backing vocals appearing in the track. But that's as far as the comparisons go. Miss Unique makes this her own song and makes it better.
At 19 this young woman has already teamed up with and performed alongside N.E.R.D, Big Boi, Die Antwoord and Gucci Mane. I have a feeling this is another rapper who's going to be blowing up the music scene soon. Check out the talented Ms Dominique Young Unique below.
Download the free mixtapes HERE