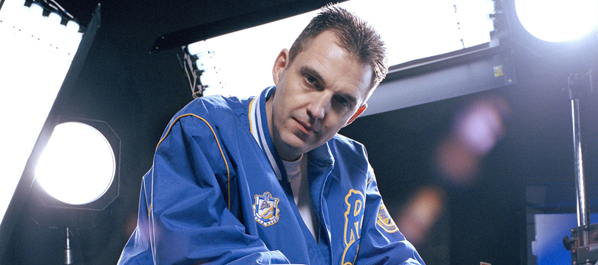 WESTWOOD GIVES THE IRISH SOME ADVICE…
"DIY ethic… Not relying on a major label to sign to get them signed… Using new media such as Facebook and blogs – there are alternative ways to get your music out there" - TIM WESTWOOD
Love him or Hate him, Westwood is an icon of Hip-Hop in Europe and has helped to break many of the artists we see at the top of the charts. So who better to advise us on who we need to look out for in 2010 and what Irish artists need to do to step their game up.

RI: This Irish Hip-Hop scene today is where the UK Grime scene was 10 years ago. How can we catch up?
Westwood: What has revolutionised the game is a couple of things – the do it yourself ethic of these artists and not looking at or relying on major record companies to get signed for them to put there records out there. I think that's always being the driving force and energy of Grime and I think that's what has made Grime connect and be successful. The second thing is media and new media in the sense of Facebook, MySpace, YouTube and also things like download links and blogs. There are alternative ways in getting your music out there.
RI: What else?
The recording process is simplified to just doing it with a Mac and Looney Tunes (er, do you mean Fruity Loops Tim?). Cats can really build there own beats, voice it themselves, then distribute themselves then make a street video which goes up on YouTube and I think that's what has really been the revolution in the game, new media. Then that can be circulated by MP3s, blogs and download sites and links. So artists like Chipmunk who weren't really on the radar and it wasn't the radio which gave them the break it was the visualisation of the radio which went on YouTube and got a million and a half hits which got him out there.
RI: What else?
In a lot of ways the traditional media hasn't embraced the UK culture or supported it. So what's happened now is people have got their own do-it-yourself ethic so they can distribute their records and have websites, such as Facebook and MySpace and get their music out there, that's been the revolution and that's why the scene is so powerful at the moment.
RI: So if we go back five years, what was it that incubated Grime, which made it uniquely UK?
I think the reason Grime got hold of it is, a lot of people can relate to the anger and frustration, the aggression of it. It was out there just like UK rap was out there it didn't make or break it, I think the new media outlets is the revolution in the game.
RI: Do you think that applies internationally as well?
Worldwide baby! Those YouTube hits, you can be anywhere in the world to get those hits.
RI: What three UK artists we should look for in 2009?
Cats that I believe in is Ghetto – he is on the launch pad. He is an incredible artist, he is good to go. Sceptic, not a new artist but he is also good to go, Getz is number one powerhouse to go. Chips could have a good year if he comes with the right record, that's how id look at it at this stage off the top. There are acts like Scorcher, Reggie, Rochey, they all in good positions right now, there is a lot of talent out there brother, an incredible amount of talent. The other artist for the future is Giggs, he the hottest artist in the world, get an interview with Giggs, he is the hottest thing in the UK right now, he's a rapper as opposed to rhyme artist, he won BET award for best UK rapper, new record 'Talking the Hardest' biggest record in UK street clubs.
RI: Finally, are you the one that's taking the piss?
Honestly I'm just having fun with it brother, having a good time. Different times for different things you know what I mean. Sometimes you are screaming up in the studio with Busta Rhymes doing the Arab Money dance but it's a different energy from you asking me some serious questions.