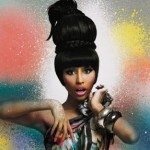 Nicki Minaj's conquest to become a media mogul is well underway. She has secured herself as an extreme force to be reckoned with on the music scene and her sense of style and fashion is as talked about as Lady Gaga's.
Nicki now has her sights set on the movie industry. She has recently confirmed through her Twitter that she is set to star in Ice Age 4: Continental Drift alongside Ray Romano, John Leguizamo, Queen Latifah, Joy Behar, Jennifer Lopez and label mate Drake.
Little is currently known about Nicki's role in the movie but with her own characters such as Roman and Martha it's hard to imagine that she will experience problems with this. Ice Age 4 currently has a release date of July next year.