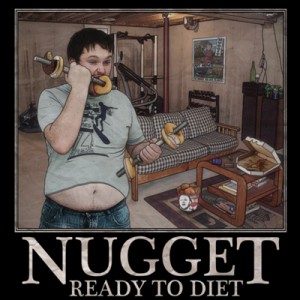 The past year has proved a busy one for Ballyfermot rapper Nugget. Following the 2009 release of his debut album 'The Nugget you Love to Hate', he returned to the Irish rap scene in 2010 and established himself as one of the stand-out emcees in Da' Fighting Irish Rap Battle League (DFI). Nugget featured in the first headline event of this league, competing against popular Dublin rapper Redzer in a memorable Battle that has received over 27,000 online views. Nugget built up his reputation in the battle scene and successfully represented Ireland over in the UK's Dont Flop battle division- winning 2 out of 3 battles last year. He was also voted third in the 'Dont Flop:Top 20 Funniest Punchlines' for Nuts Magazine on-line.
Following his success within the rap battle scene, Nugget took the opportunity to create his new album project 'Ready to Diet'. Released last month, this album proves a lot more focused than its predecessor. As aptly described in the chorus of Soundtrack to my life- "This is real life not just beats and flow". Like the tracks namesake, the album recounts Nuggets personal experiences in a refreshing and honest manner. Ranging from the self deprecating tone of 'Loser', to the optimistic outlook of 'Feels Good'; the album follows a specific theme that chronicles the rappers progress over the past few years. Nugget delivers content and lyrics that are easy to relate to, and has the unique ability to portray serious topics without losing the down-to-earth sense of humour he is renowned for. Unlike many other rappers, he does not need to sugar coat his rhymes with false pretences or narcacissitc boasting. It is evident that he does not take himself too seriously- a characteristic that makes both his battle and rapping style so appealing. The witty title, amusing cover art by Jebus, and self critical humour throughout the album illustrate the rappers ability to laugh at himself.
Nugget offers a well rounded album with a mix of Irish Hip-Hop collaborations and a variety of quality beats from producers such as Tony Mahoney and Danny Diggs to name but a few. Hiphop group Class A'z and Dublin emcee Siyo feature impressively on the hard hitting patriotic 'Irish Tune'; one of the stand out tracks on the album. Laden with clever metaphors, catchy choruses, tongue-in-cheek humour and relevant subject matter- 'Ready to Diet' certainly holds both weight and substance!
'Ready to Diet' is now available from CLASS A'z MUSIC STORE
Nugget: Ready to Diet album sampler: