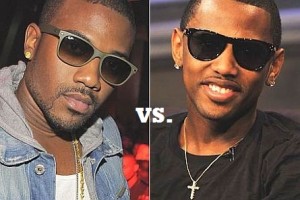 Over the weekend R&B singer Ray J and Fabolous bumped heads in Las Vegas following the Floyd Mayweather-Victor Ortiz fight. Apparently, Ray J didn't take too highly to Fab making this joke on Twitter:
"N***a Ray J doing a concert in his living room," Fab tweeted. "Nah but Floyd [Mayweather] saying we havin a concert in my living room & the camera cuts to Ray J singing 'One Wish' on the piano had me in tears!!".
Reports stated that the two got into a physical altercation and Ray J ended up in handcuffs, but was later released.
The next morning, singer-turned-reality star Ray J called into Power 105's The Breakfast Club and shared his version of why he was involved in the altercation. Brandy's little brother was full of tough talk while explaining himself:
"I'ma smack you up again, fool! 'Ray J got beat up?' I'll sock that n*gga in the face, my n*gga…All I'm saying is if you got Fab's number, tell that n*gga to send you a picture of his face right now…I'm with the Money Team right now. I swear to God he's running from me right now…[After I hit him,] he fell back because he's a sucker — Fab ain't no comedian. My homie saved his life when he was in LA so how dare you even speak disrespectful to me. So when I seen him, I was with Floyd [Mayweather] and 50 [Cent] and he tried to say 'Don't touch me' and I [punched] that n*gga — If you disrespect me, don't come to the West Coast. So he in Las Vegas and he tried to disrespect me?"  
After what must have been a long sleep, Ray J took to Twitter apologized to his fans for his rant on Power 105. "I want to apologize to my fans that might have been offended by the things I said on the radio today. I lost control."
Fabolous broke his silence on the matter when speaking to Dj Clue . He said Ray J did not seem to have any real problems with his jokes on Twitter when he had seen him earlier that evening, but the situation escalated later that night prior to Loso's performance at the Palms Casino. Despite this, he said that Ray J didn't throw a single punch, and multiple parties can confirm it.
"I had a show here at the Palms [Casino] with Jadakiss and Styles P…I'm walking down the hallway to the show…I see 50 [Cent] against the wall, I see Floyd against the wall, and I see Brandy's brother…I give 50 [Cent] a dap, I'm going to give Floyd a dap, and Ray J chimes in and says, 'Yo, my nigga I'm here with the Money Team…and we were talking about the jokes, and a nigga wasn't feeling the jokes.' I'm laughing, I'm thinking he's continuing the talk from the dinner…but I'm laughing with him anyways…and I go to speak to Floyd, and [Ray J]'s still chiming in my ear…so I ask, 'Yo, Ray J, what's wrong? Are you serious?'…while he's talking to me, he's touching my shoulder, tapping me on the chest…so I'm like, 'Don't touch me no more'…and then, from there, he leaned back [and] pushed off of my chest. So when he pushed off of me, I jumped back to him and grabbed him up. There was not fight, there was no swing…that nigga was on that Whitney last night."
Footage has now surfaced shot off a mobile phone of the fight that occurred backstage at Fab's concert at the Palms. In the iPhone-filmed clip, 50 Cent is seen standing against the wall before Ray J confronts Fab. There is a scuffle and exchange of words, but it's difficult to make out exactly what happened. 50 called into Funkmaster Flex giving his take on the incident, He claims Ray J tapped Fabolous on the shoulders and swung at him, but Fab wasn't hurt. "There was a swing, but it didn't land on nothing, so you can't call it a punch," he said. "Fab is looking at him like he's crazy," "I think [Ray J] had a little bit of juice in him."
Footage of the scuffle: