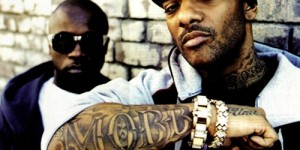 Monday March the 7th saw the release of Mobb Deep's Prodigy from New York's Mid-State Correctional Facility after serving three years of his five year sentence stemming from a gun possession charge way back in 2006.
There was no time wasted confirming his release with 50 cent posting a picture of the emcee via his Twitter account
"my man Prodigy is free! check out his first pic #WelcomeBackP @PRODIGYMOBBDEEP http://twitpic.com/476ke9 "
Despite Mobb Deep no longer being signed to G-Unit records, having been dropped in late 2009, 50 cent always kept in touch with P while away, even trying to get the Queen's rapper's sentence reduced. Back in June 2009 long time Mobb Deep associate Nyce told fans:
"Shout-out to Fif because that's why I love him so much," Nyce said. ."He's a real good dude and right now he's trying to get P out a little bit earlier like December, January. And I'm really thankful for that 'cause P is the chain that keeps the bike moving. So I definitely respect him for that."
Even tho 50 failed to get Prodigy out of New York's Mid-State Correctional Facility at the end 2009, Prodigy was kept busy with the other half of Mobb Deep, Havoc, sending beats on cassette tapes into him and getting hold of some paper to write his rhymes from his cell. Last March the Internet was buzzing with a seven minute freestyle from P called "The Phone Tap (Welcome to State Prison)" spitting over a Sid Roams beat recorded over the phone.
Mobb Deep rose to fame in the 1990's with their hardcore East Coast Hip-Hop and are known for classics such as "Shook Ones Pt. II", "Survival of the Fittest" and the 1995 album "The Infamous"
With no record label, Havoc and Prodigy have wasted no time getting back in the studio. Only hours after his release The Infamous where in the lab with producer Alchemist. Via his Twitter account Alchemist put out a picture of the Queens duo writing their rhymes in the studio.
"If only u could hear this right now! #MOBBDEEP ! http://plixi.com/p/82420085"
With a message from P on the heels of his release below, are you looking forward to hearing new material from Mobb Deep?