Featured BATTLE News
Da' Fighting Irish Rap Battle League made it's welcome return on February 9th with a huge ...

If there was an award for most improved, Siyo would arguably be the lead contender when it comes to Irish ...
Latest BATTLE News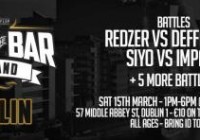 It's been a while and I'm sure we're not the only ones to have missed them. Quality rap battles returned to Dublin last month with the Don't Flop tour and the ...