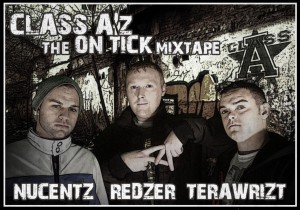 Class A'z are back with a video for their latest track The Evidence, from their recently released On Tick mixtape that is available HERE for FREE download!
The Class A'z crew consists of Terawrizt, Redzer, Nucentz and Rawsoul who all hail from Dublin, but this track is without the latter artist and has a feature from Ballyfermot native Nugget.
The video is directed by Jebus and is a darkened video with each emcee stepping to the front for illumination as they deliver their parts. DJ Mo-K also cameos in the video and it was he who picked the instrumental for the guys while sorting through tracks for them.
The track is an old Gang Starr release that was remixed by a DJ stateside. It starts with a nice bouncy beat that uses a hard but rounded kick and a splashy snare laced with a tambourine on every second hit. It utilises a smooth old skool Jazz sample with controlled horns and a haunting female vocal over the top. The track has a great flow; it has a jump on feel to it and Nucentz does just that as he goes in first with a perfectly timed snappy rhyme.
"Now all these mouths wanna talk till the days old, every other move we make then the hate grows,

You do songs at gaff partys with your mates bro, I do songs with Lupe……. case closed"
Nucentz also takes the hook on the track also as he hypes up the Class A'z reputation.
Nugget is in next as the change in flow gives a switch to the track as he reminisces about coming up listening to the guys and the journey to his present position and stature within the game
"Back when Redz stood holdin a Dutch Gold can

I was unknown, now I got a fuckload a fans and supporters

got the album on order, internationally known man, I'm passing the border"
The track just eases along with the solid head nodding beat, making excellent use of the difference in timbre and flow from each emcee to the next. Terawrizt drops in next with his trademark flow, switching up paces and delivering tight couplets while bragging justifiably about his group's sound and productions
"Smoke Room we kill it kid, so if it's got the logo with the good dro, balaclava and the pyramid,

that shit is sick and I've been killing this since day one, cos I'm the type to give a shit but don't take none"
Redzer is in last and makes the entrance to this track as he always does…running..! Keeping with the theme, talking up his group's status and tight flowed, he drops his snappy punchlines and jokes on the track that get you smiling about topics you know you shouldn't
"All these up and coming artists hope to know Red, Class A'z run shit like a bloke with no legs,

It's safe to say I find you rappers boring, thats why I'm not defending all a you capper's … Jordan"
Yet another top class track from the Class A'z who just don't do wrong when it comes to good music and good sound. Great track choice…shout to Mo-K on that and a great combination of delivery and presence from the lads. That brings it to two, the releases already out from their mixtape On Tick, the first being the quick paced banger I'm Back check out the review HERE. The guys have also dropped the videos to two more releases ; Honest Bullshit and Small Talk ft Nugget.