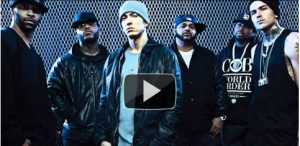 Since the BET Hip-Hop Awards took place the world has been talking about the emcee cyphers and mostly about Eminem's Shady Records roster, with the Shady cypher being the most talked-about showcase of the evening. While the awards were still airing in over in the U.S, the terms "#Cypher" and "#Shady 2.0" quickly began trending on Twitter.
Yelawolf revealed that no one in the crew heard each other's rhymes prior to the taping. The one thing Slaughterhouse did reveal was that they were roughly 70% finished with their Shady debut. The cypher featured Em, Yelawolf and the supergroup Slaughterhouse. Shady himself says he was proud of the way his team performed.
"Everybody did a really good job, and we did our rhymes over and over and over until everybody started forgetting them," Eminem explained. "The best thing about doing a cypher for me — and I'm sure for everyone else — is just knowing the caliber that everybody rhymes at. You know everybody's gonna f**kin' bring it."
Royce Da 5'9 made a classic shout out to Rihanna during his cypher freestyle., Royce's shout out was so memorable that Twitter users and others to popularize the phrase, "Hi Rihanna." all day Wednesday, Royce hit the 106 & Park stage to discuss.
"I seen [Rihanna] overseas," he explained. "Me and Em were performing at the V Festival. She was coming out to perform with us. She seen me and she came up to me. Like, I'm just a Detroit guy. Everybody is treating me like I'm famous now but I still feel regular. She came up to me and told me that she likes one of my songs. So, I just felt like, 'If you tell me that again, we go together.' It has to happen. So, you know, I express myself through my music. I just thought it was a line I was going to say. I didn't know she was going to hear it or what, but I didn't know it was going to become this."
Shady 2.0 (Yelawolf, Slaughterhouse: Joe Budden, Crooked I, Joell Ortiz, Royce Da 5'9 and Eminem)