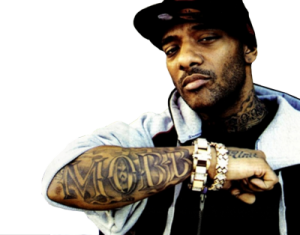 It's been two months since Mobb Deep emcee Prodigy was released from prison after he was charged with gun charges. In a recent interview with Vlad TV, Prodigy revisits his first first day in the slammer over three years ago, explaining that he wasn't afraid of going to jail despite it being his first time behind bars.
"When I went to prison, it was a new experience for me because I had never been to prison before," explained P. "Most of my friends had been through that. I've heard a lot about it through the years; my father, he's been through fed and state, so I heard a lot about it through him. I was just like, 'Aight, this is my turn now, so now I've got to deal with it.' I was mentally prepared for all that. I mentally stripped myself – I went from six-star hotels and…touring all around the world, and groupies and wildingand doing all that, to being in prison, stripped of all that. So I mentally prepared myself for that, just, 'Whatever, we've got to thug it out now for a little while, I'll be back.'"
Prodigy said from day one he was showed love from fellow inmates, stating that even the screws in the prison treated him with respect- although he did get the odd "G-Unot" jokes hurled his way. P also said G-Unit member Tony Yayo helped him out during his stint in New York's Mid-State Correctional Facility.
"When I was [processed], there were Queensniggas right away," he said. "Right away, as soon asI walked in there, I seen a bunch of my nig*** from G-Unit that were locked up. Nig*** brought me mad food, snacks, all types of [stuff], like, 'Yo,] Yayo said you were coming through; here, you good.' Mostly, it was all love, 99% love. I would say the 1% [that didn't have love] was [when]…I would be outside going to the yard or something, and a nig** would wait for you to walk mad far and say something from a distance. 'Yo, G-Unot,' or some bullshit like that. That was the only thing I ever dealt with that was hate or a problem…other than that, it was all love, from C.O.s to inmates."
Since his release two months ago, Prodigy and Havoc have been working hard in the studio recording their first album since 2006's "Blood Money". Last week they performed together on stage for the first time in over three years when they headlined a concert over in New York, backed by supporting acts, Ghostface Killah, Raekwon, and DJ Stretch Armstrong. The biggest moment of the evening came when Lil Kim appeared on stage with Mobb Deep to perform their late 1990s remix for the single "Quiet Storm."
In a recent interview with AllHiphop.com , Prodigy gave an update on the long awaited album, "We working on it, me and Hav in the studio everyday going hard. We are not going to put nothing out there that is not crazy, because right now it is not a game, you know what I mean? We understand the importance of putting something that is going to stand the test of time right now."
In other Mobb Deep related stories, during a recent interview with MTV News over in the US, Nas explained how he and Prodigy ended there long going fued. The beef has been well-documented in Hip Hop, as the former friends and collaborators eventually turned bitter rivals. However, the two recently made peace, and Nas even appeared on a Mobb Deep track recently, surprising many fans of the two Queen's emcee's.
"He called me as soon as he got out of jail; he got in touch with me. We talked about some things," said Nas. "I didn't know he had a book. He didn't tell me that. I guess he just wanted to clear the air on some past things that don't mean anything today."
Nas continued, and spoke about the Mobb Deep and Nas callabo "Dog Shit." "I just jumped on the record; put that to the past or whatever ill feelings he had towards me. I think he was misinformed about things, like I was a negative guy or like I was trying to harm him in any kind of way. I think maybe he just grew up a little bit."

Check out the interview P gave Vlad TV below: