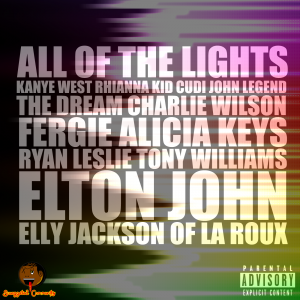 Kanye West calls on some familiar names for the unfinished remix to his latest hit "All of the Lights" . Sticking to the same beat and hook Yeezy lets Drake, Big Sean and Lil Wayne do all the work on the remix with no fresh verse from Kanye.
The original has vocals from John Legend, The-Dream, Elly Jackson, Alicia Keys, Fergie, Kid Cudi, Elton John, and Rihanna, who is credited as the featured artist on the single. Drake was due to be on the original but was cut from the track before the now platinum "My Beautiful Dark Twisted Fantasy" was released back in November.
G.O.O.D Music's Big Sean gave his fans a sneak peak of the record when he spit his verse during a live performance in Denver on Saturday night.
Rumor's have been floating about the Internet that a verse from Jay Z is to be added to the finished version of the remix lets hope so as the remix doesn't shine as bright as the original.
Kanye West Ft Lil Wayne, Big Sean & Drake "All of the Lights"
Subscribe to be first to hear the Official Release