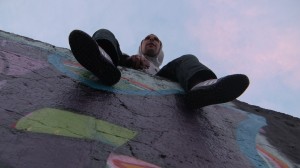 Blanchardstown rapper Mr HighSpeed has just dropped the track Late At Night with an accompanying video, which is featured on his upcoming solo album, Space Rap 101.
Mr HighSpeed, real name Richie Lewis, is now 25 years of age and very much an Irish Hip-Hop veteren, having been a member of the well known Blanchardstown Hip-Hop group The Elements for the past ten years. The Elements were a highly respected group of 5 Dublin based MCs and a DJ who enjoyed substantial local support in the mid-2000s.
This particular video marks the return of Mr Highspeed, with producer Dave Conroy the creative brain behind the visuals, which were recorded in Dublin. The video opens with an old science fiction sample and with HighSpeed miming the words in a close-up shot. Wearing a Sherlock Holmes type hat and modern magnifying glass pressed close to his eye, there is an eerie old but futuristic type feel reminiscent of a Stanley Kubrick scene. From that, the beat creeps with an eerie guitar sample over a low beat that builds to a roll then he drops in ;
Where's my head at? 4 in the morning/   and i'm yawning/ smoking green in the kitchen/ transforming into golum/   exercising my right/ Draining current from my lights/ never reluctant/ always corrupt/
The track is also produced by Mr HighSpeed and is a testament to true Hip-Hop, with elements of Soul and Funk sampled throughout. The flashes of musical genius can be seen when you take the song as a whole and hear how well the flow fits the track. Highspeed really shines over it using short lines and utilising phonetic rhyming skills that give each rhyming set a pop in time with the beat.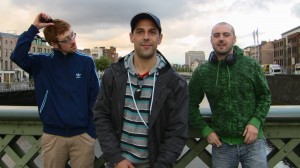 How about it? How about not? I'm defiant/ a general equilibrium of science, let me level with you!!!/ take a shot for good measure, I'm a mismatched anarchist/ pacifying pacifist, toxic avenger, with my makeshift magic stick/ strenuous, cunning linguist, abrasive/ slowly getting back into this!! messing with the words i miss/exponentially, (a massive increase)/
The track and style of HighSpeed is quite unusual compared to other Irish Hip-Hop acts and this is especially evident on this track. HighSpeed is offering a new variety and sense of depth to Irish Hip Hop and again shows that talent in this country is bursting at the seams.
Mr HighSpeed is currently working on new Elements material as well as working with and helping out an upcoming Dublin rap group called The Animators. He is also working fervently at his production and is currently producing tracks for several Irish Hip Hop acts, even producing the beat for the last DFI advertisement.
As of yet we do not have a release date for Space Rap 101, but Mr HighSpeed tells us that more videos are to follow.