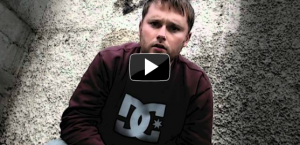 Ballyfermot rapper Nugget is back with the latest video release off the DFI volume 2 mixtape, which is hosted by Dublin based turntablists DJ Mo-K and DJ Mayhem.
The track itself is over the Lupe Fiasco hit Kick Push, which was the Grammy nominated first single from Lupe's debut album Food & Liquor, released back in 2006.
The video sees the Ballyfermot native sitting in front of the camera rapping along to the track, visually flowing his lyrics with an ease that has become increasingly visable since his emergence as a front-running MC in the DFI battle circuit. Nugget has undoubtedly improved his flow in recent years and there is a verbal dexterity that is emerging strongly of late. Displaying this on the first verse, he raps;
"I'm known as the man, microphone in the hand, hit the zone and I'm the nicest flowin in the land,
but it isn't enough and this spittin is tough when you realise that no-one really listens to stuff.
So when you kick a verse or throw a track or video up, can't just sit back, you have to give it a push, most these idiots suck, thats why they never get a chance, stuck in a rut, never gettin to advance"
This track is from the second installment of the DFI mixtape series. The first release was solely hosted by Rap Ireland & RTE's DJ Mo-K but this edition sees DJ Mayhem join forces, bringing his infamous cutting skills to the table.
Nugget released his first album The Nugget You love To Hate in 2009 and his second album Ready To Diet was released back in February of this year. He has represented Ireland in the Don't Flop battles in the U.K. and is one of the top MC's in Da' Fighting Irish(DFI) Irish Rap Battle League.
You can cop this mixtape HERE