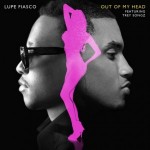 Lupe Fiasco teams up with R&B singer Trey Songz for the latest release from his 'Lasers' album. 'Out Of My Head' is produced by Miykal Snoddy and is the 3rd single released from the number one album.
Lupe Fiasco has said that the song "doesn't have any deep meaning behind it, and is for the chicks." While Trey Songz has praised the song, saying that it was one of his favorite collaborations he has ever done.
The video was released yesterday via MTV and see's the rapper being so fascinated with his love interest that he keeps seeing her face on every woman he encounters from an old woman to a police officer.
Check out the video below
Lupe Fiasco Ft Trey Songz – Out Of My Head: