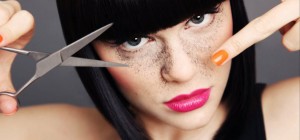 Up and coming R & B Singer /Songwriter Jessie J has burst onto the music scene in recent months, with her hit single "Do it like a Dude" peaking at number 2 in the UK charts and 13 in the Irish charts. Rap Ireland decided the time was right to take a look at how the Essex born girl has taken the music world by storm from writing for the likes of Alica Keys and Christina Aguilera to performing on Chris Brown's European Tour. Not a bad record for a singer who is under doctors orders to take it easy, as a result of an irregular heartbeat and a minor stroke four years ago, after which doctors could not guarantee she would sing or walk again.
The 22 year old has had a long journey to get where she is today. At the young age of 10 she missed out on an audition for the stage production of Annie cause her voice was "too loud" .  By the age of 11 she was given her first chance in Andrew Llyod Webbers's West End production of Whistle Down the Wind but that was overshadowed by her diagnosis of an irregular heartbeat. At 16 she attended the Brit School (other stars included Amy Winehouse and Adele). At 17 Jessie joined a girl group but having turned 18 Jessie suffered a minor stroke  and as a result does not smoke or drink alcohol.
In 2005 she was signed to her first label but before Jessie got to release any material the company went bust. In a interview with a British journalist recently she is quoted, "At the time it was very frustrating," she says. "But I can look back on it now and go, you know what, I'm glad I went through the tough times and was angry. It's made me a thicker skinned artist, and I think you have to be tough."
With no UK record deals coming her way she jumped ship and headed to the US where she performed a couple of showcase gigs that brought her to the attention of label bosses across the Atlantic. Within months she was signed by a major label stateside.



Meanwhile the singer had found successes as a songwriter. She co-wrote Miley Cyrus hit song "Party in the USA" which reached number two in the US and was soon in studio with Britney Spears working on her new album. Jessie has also worked with Justin Timberlake, who has recently referred to her as "the best singer out there now".
Her Hit single "Do it like a Dude" was written with Rihanna in mind after hearing "Rude Boy". It inspired the 22 year old to write the song, which she had wanted to give to Rihanna, before being told "keep it for yourself" by Justin Timberlake.



The video for her 2nd second single "Price Tag" has recently been released, which features B.O.B who himself has had a great year with numerous hit singles . On working with Jessie, B.O.B says,
"Jessie J is one of the most interesting people I've ever worked with, she has a really colorful personality, she just feels like a real person. She is not in it for just the stereotypical reasons and what I seen in her when i worked with her was she really has an idea of what she wants to do and it reminded me as an artist what it's about"
As of today, "Price Tag" ft B.O.B is number 2 in the UK  iTunes chart and number 6 on the Irish iTunes chart. The debut album "Who You Are" is released on the 28th of March 2011. Irish fans wont have to wait much longer to get to see the "Do it like a dude" singer, with tickets onsale now for the her debut Irish show on the Thursday April 7th in Dublin's Academy . Tickets are priced at 14.50 from your Ticketmaster usual outlets and MCD.ie have presale tickets available now.
WORDS // BLAIN MOORE // RAP IRELAND