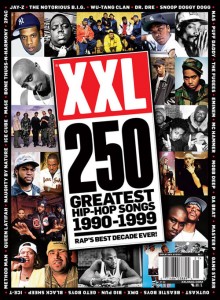 US Hip-Hop magazine XXL has just announced that they are planning a special collectors issue next week to honor the 250 Greatest Rap Songs of the 90′s. Many Hip-Hop fans will argue that the 1990's was the best decade for rap. It was definitely the decade that Hip-Hop became more global and not just in the boroughs of New York City. On May 24th, XXL Magazine will release a one-off issue that ranks the Top 250 Greatest Hip-Hop songs from "Rap's Best Decade Ever!"
Coming in number one is Dr. Dre's 1992 classic, Nuthin' But a "G" Thang- the lead single from Dre's game changing album "The Chronic" which sparked the West Coast's 90′s reign and helped Dre and Snoop become house hold names.
The 90's is also when Diddy formerly known as Puff Daddy created a bunch of time-less hits on his Bad Boy Records label and one of his songs came close to topping the list but will have to make do with the number two spot for his 1997 posse cut all "It's All About the Benjamins (Remix)". Some other names on the list are 2Pac's "California Love" (No.7) and Pete Rock and CL Smooth's "They Reminisce Over You" (No.10), Ice Cube's "No Vaseline" (No.58), The Lox's "Money, Power & Respect" (No.117). Crossover pop hits like MC Hammer's "U Can't Touch This" (No.115) also make the list along side classics like Scarface's "I Never Seen a Man Die" (No.99).
The list is sure to ruffle a few feathers amongst Hip-Hop fans and cause a few debates when the full countdown is revealed this Tuesday. Is Dr Dre's "Nuthin But a G Thang" a worthy winner? Or do you think another classic track from the 90's should of took top spot?
DISCUSS THIS ON THE RAP IRELAND FORUM