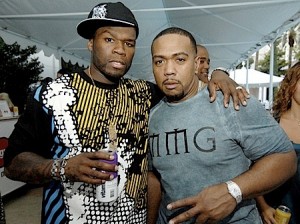 In a move that came to light earlier this week, 50 Cent added super-producer Timbaland to the mix for his SMS Audio venture. It is thought that the move is to add further credibility to the product line, by getting a co-sign from one of the industry's top music producers, perhaps to go toe to toe against Dr Dre and Beats by Dre.
Speaking on the new partnership, 50 Cent expounded;
"That's exciting, Tim wanting to come and get involved with SMS. Because now, he has ownership in the company," explained 50. "Equity ownership. It gives him the same incentive that I have in it moving forward and being successful."
It has not been revealed yet what level of equity Timbaland took in the venture, though it is believed to be substantial.
In other 50 Cent related news, Fiddy spoke a little more about his upcoming album Street King Immortal. "I think that when people get a chance to hear the full body of work, they'll think, 'Wow. He really put his back in it. He really put his work into this. I put musical interludes on this album instead of a whole lot of talking and stuff like that. I made so much music, I just kinda want to get it out, get it off my chest."