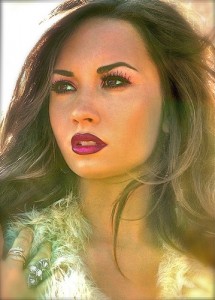 In mythology, phoenixes are said to resurrect from the ashes of their burnt corpses. For Demi Lovato, she rises from the ashes of her addiction but not as a phoenix, more "like a skyscraper". You may have read in previous articles that there were rumors of Ms. Lovato recording an R&B influenced album, later confirmed by Timbaland and Missy Elliott. A preview of entire album has now become available on Sound Cloud and we can confirm that this is not an R&B influenced album. This is an R&B album.
The 19 year-old former Disney star has been working on her third studio album since leaving a treatment centre for bi-polar depression, self-mutilation and bulimia. Since then she has been hinting at being influenced by Keri Hilson and Missy Elliott. Collaborations with Missy, Timbaland, Dev and Justin Bieber were then confirmed. The album does not feature Justin Bieber, instead it features a duet with Jason Derülo which leads to the assumption that Demi will appear on Bieber's new album.
I don't want to give any kind of official review until the album drops, because I know a few of the more hardcore Urban fans will be more than a little hesitant to check out the preview. I assure you that this album is going to be huge worldwide. Demi however is taking a huge risk by leaving the Pop / Rock world that made her famous and entering the harsher world of Urban music. Considering the personal demons she's fought, she'll be more than capable of going toe to toe with the likes of Nicki Minaj, Rihanna, Kanye and Lil' Wayne.
You can check out the preview here and let us know what you think of the new Urban phoenix.
Demi Lovato – Unbroken [Previews] by Guilherme Tintel