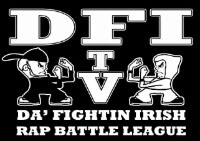 No longer content with just battling the best emcees the UK and Ireland have to offer, Nugget is now also taking on cartoons! Here he's pitted against Dotzy in another classic battle vid from the DFI crew.
This is the last of the DFI 7 battles, so be sure to keep an eye out for brand new videos from their inaugural Cork event coming soon.
Subscribe to the DFI Page for all the latest battle info.