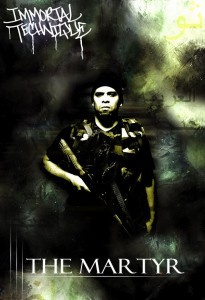 Controversial, independent, political, determined and bellicose are all words that have been used to describe Harlem raised MC Immortal Technique. On the evidence of his latest effort, The Martyr, it is quite clear that 'Tech' is a workaholic, constantly striving for perfection in a music genre that reeks of populism and commercialisation.
Immortal Technique lives, breaths and bleeds underground Hip Hop. However, his political ideologies have catapulted him far beyond the underground, to a place where the in-your-face rapper feels comfortable throwing daggers at political figureheads. His reputation has allowed him gather a unique following in the 'commercial' world, and yet, he stills holds on tightly to his own beliefs. The Martyr, a self released free album, does exactly this. Furthermore, it's apparent that Tech has taken a more broadened approach in dealing with the polemical content in his verses.
The features are sensational, a combination of the heard (Dead Prez, Joell Ortiz and Brother Ali), to the unheard (Chuck D, Vinnie Paz of Jedi Mind Tricks and Mojo of Dugeous). This album is a rather nice combination of lyrical verbosity and diverse production, something that has been missing from Hip Hop in quite a while.
The album opens up with an interlude proclaiming that everyone should burn this CD. This message highlights the importance of Hip Hop as a voice, rather than importance of money and fame that's associated within. RA the Rugged Man once said that "you're only as successful as the money they spend on you". Immortal Technique takes this belief and bins it, telling listeners; "to think for you (themselves) and stop being a servant".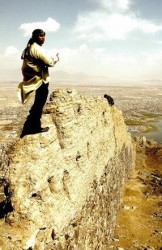 On the title track, 'The Martyr', Tech conjoins lyrical content with an up-tempo beat, that at first, almost doesn't make sense. He slangs together war references, believing that soldiers who die for a reason are in better stead than those who die for nothing. The track finishes with IT setting the stage for the upcoming tracks, using his life as a metaphor for 'the struggle'.
The proceeding track, 'Angels and Demons' is melancholic in comparison, but still rich with comparisons to war and destruction, something we've come to expect from Immortal Technique.
The first of the stand out tracks, 'Rich Mans World (1%)', highlights the differences between rich and poor, without actually zoning in on the obvious disparities. Instead, Tech raps;
"…only little people pay all these taxes and fees /
since you were born we control what you watch and you read /
and pretty soon we're gonna own the f***ing air that you breathe /
I take what I want – f***er – I don't have to say please /
I convince you that its good for you / take it and leave /
you think presidents are the face of a nation? /
I put them all where they are / end of the conversation"
The track, obviously cynical, samples an ABBA classic 'Money Money Money', and instantly becomes pleasant listening.
'Toast the Dead' and 'Black Vikings' are tracks of defiance and struggle, emphasising escape through hard work and dedication; themes that are evident throughout alot of Tech's previous work. 'Goonies Never Die' samples the Goonies theme tune, before the uplifting Natural Beauty takes centre stage. 'Civil War' is a political diatribe against the assumptions and preconceptions we have in our society, highlighting what divides the top from the bottom. Immortal Technique smartly raps;
"…I never hate on the south / I respect their vision /
I just hate on n****s that promote samboism /
and white execs that love to see us in that position /
they reflect the stereotypes of America's vision /
they want dancing cooning and hollering /
only respect us for playing sports and modelling /
modern racism? / its stay in your place-ism /
while people trapped in practical black face-ism /
so f**k a civil war between the north and the south /
its between field n****s and slaves that are stuck in the house"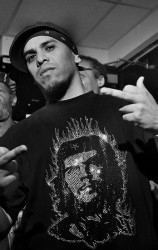 The album comes to a close with 'Ultimas Palabras' and the 'Sign of Times', both personal favourites of mine. 'Ultimas Palabras' (The Last Word) raises awareness about corruption within elite businesses before finally coming to a dramatic conclusion, something fans will continually wonder. 'The Sign of Times' is the sort of track that will adapt to how each listener perceives it. One thing is for certain, Tech is concise with delivering his message, but how it impacts an individual is left to us to determine.
Immortal Technique is aggressive in his synopsis of politics throughout this album/mixtape. Although he achieves what he originally sets out to do, there are still those few moments were you wish he would let loose, move away from being one dimensional, and offer listeners the outstanding battle rap skills of 'Obnoxious' or even the creative story telling skills of 'Dance with the Devil'. All in all, this mixtape/album fills a void for Tech fans, as they impatiently wait for The Third Passage to drop.
Download The Martyr HERE for free!