It would appear that Jim Jones is embracing the role of keyboard warrior of late, as he engages in two online wars of words, with former Hip-Hop mogul Dame Dash, and Indiana rapper Freddie Gibbs.
Gibbs, the rapper who played Dublin's Twisted Pepper last month, was the victim of a shooting after a concert in Brooklyn last week. In recent weeks Gibbs had been taking repeated jabs at Jim Jones online, insinuating that the Dipset capo was a "wannabe blood gang member" and even ridiculing his weight on Instagram: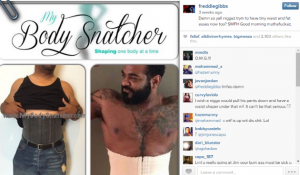 Jones was obviously none-too-pleased by the ridicule, and was quick to jump on Twitter following the shooting, making a pointed remark towards Gibbs:

However that was all very mild compared to the shots Jones was firing back at Dame Dash, with Jim apparently losing his cool over the long-running beef and drawing attention to Dash's highly publicised financial issues:
"Somebody ask this d**khead @duskopoppingtondame if his car note n rent is paid this month or is he still sneak thieving his own people to pay bills he can't afford smh why did u fire David Chang cause u put a car in his name n didn't want to pay th car note which is ur bill n then u put hands on a defenseless Chinese man why u dont do tht tuff shit like u said to a real tuff nigga like my self oh cause u a f***t sneak thievin c**k sucker dam dame u went out like a bad batch of tht scaggy postin pics wit@mr_camron aint gone save u bro u need Jesus lol Byrd nigga n when u see me u know whts up aint nothin change nigga lmao this should b fun exposure lol is this wht U wanted to b back in th game right well here's ur introduction n u owe me bout 5k cash from all them 100 dollars I was givin u Dailey like my side b***h"
Well then. Seems like we have a few highly strung keyboard rappers on our hands.