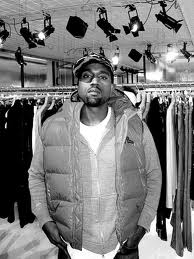 Kanye West the self- proclaimed "Louis Vuitton Don" is reportedly working with British fashion designer Louise Goldin on a new label.
The pair were said to be creating the ready-to-wear collection in Paris, but have recently relocated to Goldin's London studio in order to put the finishing touches to the line.
Kanye first sought the advice of Professor Louise Wilson, the director of the MA in fashion course at Central Saint Martin's College London, before embarking upon his new creative partnership  with Goldin and the  Professor has confirmed to the British Press Association that she had advised West and that he had made a donation to the college.
"I can confirm that Kanye has been to visit me twice at Saint Martins and we have briefly discussed this collaboration," she said.
"His visit was in part to employ interns for his label, and it's important to mention that he's supported our fashion school and made an immediate donation to Saint Martins, which perhaps further demonstrates his passion for the industry."
Professor Wilson went on to describe West as a "global phenomenon and a very interesting person", and said she expected the pair's collection to be "well-considered".
It is thought the label will be ready to debut at New York Fashion Week but it not yet known what it will be called.