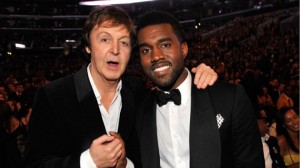 As the clocks struck 12 for the New Year around the world, Kanye West shared his collaboration with Paul McCartney, "Only One."
Kanye leaves his rapping aside and, with the aid of a minimalist autotune, sings his way through the track, while McCartney laces the track with a comforting, piano-driven melody.
The song, which is dedicated to Kanye's daughter, North, has a supposedly divine narrative behind it.
A press release for the song states:
The Beatles' lead singer improvised on the keyboards and Kanye sang. After playing the track back for his family, Kanye didn't recall singing "Hello, my only one…"
He believes that he channelled his late mother, Dr. Donda West, on the song and that she was speaking to North. He explained to his family that his name, Kanye, which had been chosen by his mother, means "only one."
"My mom was singing to me, and through me to my daughter," he said of the moment.
"Only One" is said to be the first of many Kanye/McCartney collaborations, and can be heard by visiting KanyeWest.com.