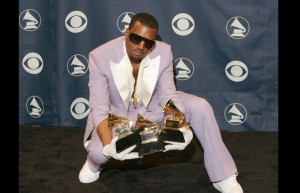 Kanye West has complained that he doesn't get enough Grammy nominations.
During a show in Phoenix Arizona, Kanye addressed his issues with the Grammy committee's lack of recognition for his 6th studio album. Even though Yeezus has been named one of the top albums of the year by many music publications, he was puzzled  that he only got two nominations.
"Yeezus is the top one or two album on every single list" Kanye said. "But only gets two nominations from the Grammys. What are they trying to say?" Kanye said.
Kanye insisted that he was not at all bothered over the situation. "I don't care about the Grammys, I just would like for the statistics to be more accurate" Kanye insisted.
Kanye is one of the most rewarded Grammy recipients in history. He has won 21 Grammy awards throughout his career which puts him in the top ten all time.
He has won the Grammy for "Best Rap Album" four times. He currently holds the record for most wins by a Hip Hop artist. Jay Z is in second place with 17.
This year Kanye West is up for two nominations – Best Rap Album 'Yeezus' and Best Rap Song 'New Slaves'.