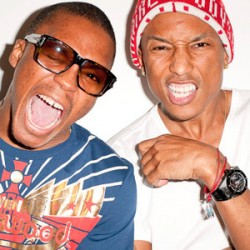 While we wait patiently for Lupe Fiasco to throw his verse onto Class A'z member Nu-Centz track "Had Enough", it has been announced that Lupe Fiasco and Pharrell Williams are working on a joint album.
The two have worked together on tracks before, and alongside Kanye West, the trio formed CRS (Child Rebel Soldiers) and planned to release a group LP, but the project failed to materialize.  The announcement was made yesterday that the Chicago rhymer and the super-producer are set to release a collaborative album.
"Food and Liquor 2 coming soon," read a post on Lupe Fiasco's website, before another post added, "Lupe and Pharrell album coming soon."
No further details are currently available about the project. Rap Ireland will keep you posted on futher news on the album and on the Nu-Centz track.