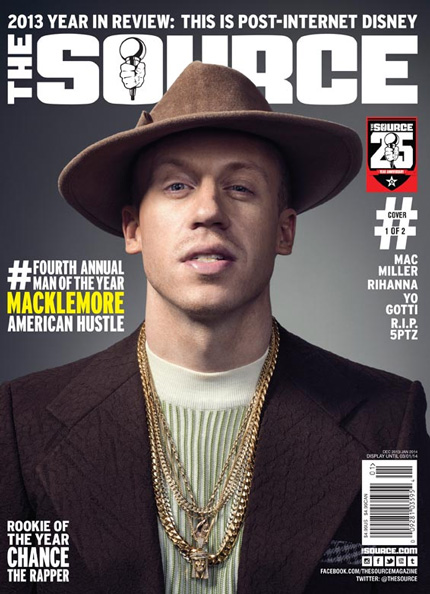 It has been quite the year for a certain Ben Haggerty, better known to the world as Macklemore. The latest accolade for the Seattle rapper is that of The Source Magazine's "Man of the Year", and with Grammy season looming, it would appear more awards may be on their way.
While speaking to the magazine, Macklemore admitted that there may be some passionate debate over whether The Heist should pick up the gong for Best Rap Album at The Grammys.
"In the Best Rap Album category, we're up against Kendrick, who made a phenomenal album. If we win a Grammy for Best Rap Album, Hip-Hop is going to be heated," Macklemore said.
In his own opinion should he take home the prize, or should Californian hustler Kendrick Lamar be bestowed the honour?
"In terms of [that category], I think it should go to Kendrick," he said. "He's family. TDE is family, and I understand why Hip-Hop would feel like Kendrick got robbed [if he didn't win]. I'm not trying to compare albums; I think you can make an argument for both. With that being said, I am a huge supporter of what Kendrick does. And because of that, I would love to win in a different category. We obviously had massive success on commercial radio, and I think that, in ways, The Heist was a bigger album, but Kendrick has a better rap album."
Three other artists up for the Best Rap Album award include Drake, Jay Z, and Kanye West.
In typical Kanye fashion, West recently went on a rant as to how he has never won a Grammy against a white artist, and is certainly not impressed by that fact.
"Now I'm 36-years-old and I have 21 Grammys," Ye said. "That's the most Grammys of any 36-year-old. Out of all those 21 Grammys, I've never won a Grammy against a white artist…People come to me and they congratulate me on those two nominations. Fuck those nominations."