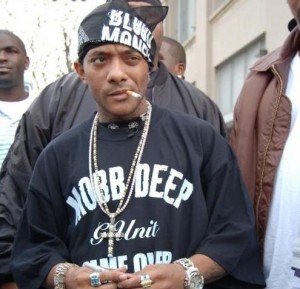 We often accuse rappers of using controversy to spurn album sales, though it is rare that a rapper comes right out and admits it. Well, that's what Prodigy has done, in as many words, explaining on Hot 97 how the supposed beef with Mobb Deep bandmate Havoc was initially a hack that the duo decided to milk for all it was worth.
The internet was alive with speculation last week as Havoc's Twitter account unleashed a slew of attacks on Prodigy, with neither coming out to deny the beef until now. When pressed as to why they waited so long, Prodigy revealed;
"Me and Havoc [are] businessmen. We stepped back and was like, 'Alright, how can we use this to our advantage?' We were like, 'Alright, we got a record about to drop…'"
Hot 97's Peter Rosenberg responded, "So you're acknowledging that once it became big, you said, 'We might as well milk it for what it's worth,'" an assertion that Prodigy confirmed.
It seems all is not as it seems on the surface, with Cipha Sounds and Rosenberg both claiming that trustworthy sources told them that Prodigy and Havoc had recently gotten into a fistfight, as well as pointing out a number of other inconsistencies in the story.
P was having none of it though, smiling and stating, "I would watch them sources you're talking too; Me and Hav are business as usual."