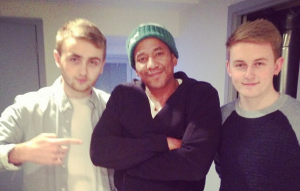 Talk about mixing the old with the new. While Q-Tip has been doing the rounds of collaborations lately (recently finishing a joint project with Busta Rhymes), it comes as a surprise that he is now working with one of the UK's top EDM acts, Disclosure on a yet (pardon the pun) undisclosed release.
Tip posted the photo to Instagram with the caption "In the studio with these guys". Disclosure are one of the hottest acts on the dance scene going into 2014, and recently sold out a Heineken Music show in Dublin, with phenomenal demand for tickets.
All this bodes well for Q-Tip's upcoming album "The Last Zulu", as it is believed Kendrick Lamar will also be making appearances on that release, along with a host of upcomers.