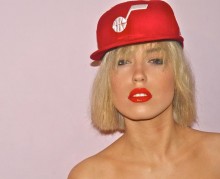 Jesse Valentino is without a doubt one of the best DJ's in Ireland and more importantly one of the best Urban DJ's. Her unique style and mixes have turned practically dead clubs into the party of the night, as I have seen for myself!
Not only is she a gifted musician but her unique sense of style is already setting her apart from a lot of Ireland's musicians. Rap Ireland caught up with Jesse to find out a little bit more about the refreshingly down-to-earth DJ.
Rap Ireland: What was it that inspired / attracted you to get into DJing?
DJ Jesse Valentino: I've been obsessed with music my whole life, especially hiphop- I love the club scene and going out. I remember I always used to think how fun it would be to DJ & to control the crowd, and one day I just decided to give it a try I discovered that I really enjoyed it! But I couldn't have got to where I am now without the help of Frank Jez for giving me invaluable tips on DJing!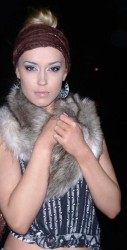 Rap Ireland: The Urban community is notorious for being very male dominated and the DJ community wouldn't be far off. Do you think there's any extra work or problems on your part for being a female Urban DJ?
DJ Jesse Valentino: Yeah of course, I would definitely say its a hell of a lot tougher being a girl as its hard to get people to take me seriously-people like to see a girl DJ is a novelty, so I I have to prove myself and work that extra bit harder. I've grown up not believing sexism existed in my generation, but unfortunately I got a rude awakening! From a lot of guys taking me for a joke to even receiving threats from girls. I experience a lot of jealousy from people trying to get in on the scene, accusing me of monopolizing it as the only girl. But there is room for everyone-if you are good enough and if you can handle it. People are gonna read this and take it as more fuel for starting beef, but you can't win!
Rap Ireland: Does it take you long to create your sets and your mixes? Or do you kind of just feel the music naturally?
DJ Jesse Valentino: It doesn't take me too long at all. It usually will come naturally when I am feeling the flow of a few songs, i'll decide to put them together and see what I can come up with.
Rap Ireland: Who inspires you the most? Not necessarily music wise but in general?
DJ Jesse Valentino: People who mainly inspire me are women like Rihanna, Katy B, Gwen Stefani, Neon Hitch, Ms Dynamite and M.I.A. A lot for their fashion, but also cos they are girls in the game doing it for themselves. Also I gotta say my sister for turning me on to the classics in hip hop & fashion!
Rap Ireland: If you could DJ for any music star who would it be and why?
DJ Jesse Valentino: I would love to DJ for Les Twins. I think that the two of them are so talented; It would be amazing to see them live and to see how they would move to my mixing!  Also Aaliyah, it would be so incredible to DJ for someone so talented.
Rap Ireland: What do you make of today's Hip Hop stars? For example Nicki Minaj, Keri Hilson, Drake, Lil Wayne compared to Missy Elliott, Ms Dynamite, Tupac, Aaliyah?
DJ Jesse Valentino: I love todays hip hop, but if I had to pick I would go with the old school! But I don't think its fair that people compare today's hip hop artists to the old school ones. Today's stars are going to be tomorrows classics, they are paving the way for future artists. Everybody is trying to bring hip hop forward & rappers like lil Wayne have basically created their own style & deserve more props for that.
Rap Ireland: What has been the highlight of your career to date?
DJ Jesse Valentino: I would have to say when I played in the Wright Venue penthouse for Kylie Minouge's crew back in March, it was the after party for the concert.
Rap Ireland: For those reading where can they catch you next performing.
DJ Jesse Valentino: Ill be playing in The Kitchen in Temple bar this Friday
Check out the link to DJ Jesse Valentino's latest mix below:

DJ JesseValentino – The Snitch Mixtape – Hiphop R&B Mashup!!!! by DJ Jesse Valentino