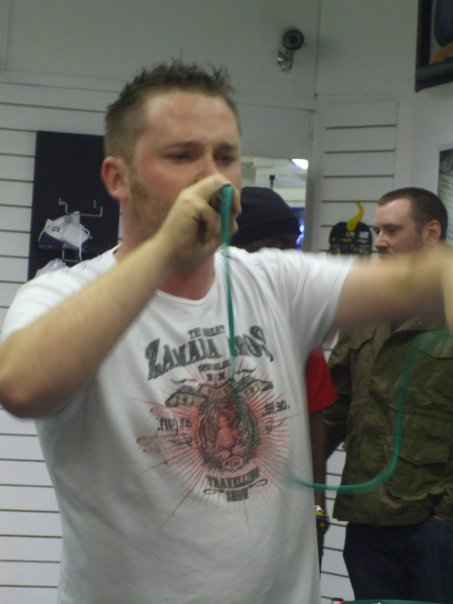 This is a brand new feature here at Rap Ireland.com: The Battle Blog. Over the coming weeks and months, we will be inviting some of the country's top emcees to drop by and break down the science of battling.
To kick things off, DFI standout Nugget will be providing a series of commentaries for Rap Ireland as he prepares for his headlining battle with Bony on July 17th.
Renowned as a punch line rapper, Nugget seemed like an obvious fit for any Irish battle league. With wins in both Ireland and the UK, he has already established himself as one to watch on the battle scene.  In this his first blog for Rap Ireland; Nug dissects his Don't Flop debut against Redzer.
Words: Nugget
Intro: Duan Greally

The Battle in Question:

The Battle Blog
Firstly, I'll give ya some background to the Redzer battle. Back when Red released his first album, I put together a 16 bar diss for him over one of his own beats. It was done entirely as a joke between us, but we acted as if it was real, and a lot of people believed it to be genuine. I got a fair few abusive comments online and Red even told me an uncle of his heard about it months later and threatened to give me a beating! That was back when I was still only a newbie to making tracks. Since then Red has gained a lot more fans, and I'd like to think I've also come along a bit too. So when the battle was set up for DFI 1, I knew it was gonna get people talking.
The preparation for the battle was something that was all new to me. I was kinda unsure as to how to judge the length of verses. I wrote what I thought was the four rounds, and kept a few spare bars in case I was left with some gaps to fill. I think a lot of people expected Red to have it pretty handy against me as he's the much more established rapper. But all I could do was come with my best bars and bring it on the day.
I knew people would expect a lot of red hair jokes which would be the obvious and easy route to take. I also knew Redzer himself would expect this and would likely have flips prepared. So I went the route of calling him a racist instead, and it seemed to go over really well.
A lot of people have commented on the "he was in the back" lines saying that I bit it from different battles. I'm not gonna lie: I did see lines like this used in other battles, but you need to listen to the bars beforehand and afterwards. I call Red bizarre just before it and basically make him out to be the worst member of his crew. When other people said "he was in the back" it was because their opponents were in the background of vids, but Red was actually on the sin city track. I was basically dissing his verse on it by saying Tera wasn't aware of it!
The Sin City Video:

One line which really went over well on the day is the first bar of my second verse. It was a flip to Redzers "chicken…. nugget" line. People have said to me since that they assumed it was freestyled on the day, but to be honest it was a flip I thought of a long time in advance. I've always been into battling, and even before I started battling, I liked to think of battle bars and flips. I had also entered and won an online audio tournament a few years back when I was starting out. I had a lot of flips that I came up with as I always assumed somebody would use a chicken nugget line against me. I have to say Red's line really impressed me with the pause in between and it was really well delivered. He took something which someone else would have made sound simple but made it really funny. As soon as I heard his line, I knew had to flip it, and I was delighted with the crowd response it got.
As for the decision on the day; a lot of people have debated it since and that seems to have helped hype the battle. So I take that as a win in itself for both me and Red. It was the first Irish battle uploaded to Don't Flop and I was happy to be part of it. Personally I felt it was close in three rounds and Red killed me in over time no question. I learned a valuable lesson: always keep some killer stuff for OT. Afterwards despite being disappointed that I had lost, I was excited about battling and definitely knew it was something I wanted to keep doing. At the end of the day – fuck a result – a great battle is a great battle, so just keep watching!
Nugget takes on Bony in DFI4 on July 17th in The Good Bits Dublin
DFI4 is in association with Rap Ireland