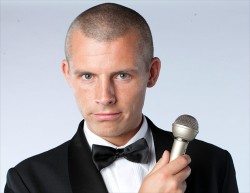 Des Bishop- a native New Yorker, moved from Queens to Ireland in his mid-teens in 1990. He has since carved out a highly successful career in stand up comedy in Ireland, as well as three acclaimed television series on RTE, Ireland – The Des Bishop Work Experience (2004), Joy in the Hood (2006) and most recently, the award winning six episode comedy documentary series In the Name of the Fada (2008). Rap Ireland's Darren Mc Nelis had a chance to catch up with him recently, where he let loose about his college life, family, his views on hip-hop in Ireland & more.
Words: Darren Mc Nelis
Well I wanted to welcome you here (To Athlone I.T)- I saw the show and thought it was great!
Yeah great crowd- hot room! Very bright as well, you could see the back row as well as the front row, that's not normal for a comedy show!
So is this your first time here?
I have not been in the Athlone IT for quite some time. Although in [an Athlone] pub in 1997, I had never "died" at a comedy show, and i was driving down to this gig with Barry Murphy, and I said to him in the car "I never died ya know". Well that night for an Athlone gig I died on my hole! It was horrible- they were rowdy, and then I came back and I think I did a gig in the canteen maybe in the early 2000′s and that was fine. Those are my only two Athlone I.T experiences.
So no nights on the town so?
Oh no I have played loads of times in Athlone at the Dean Crow; I can't even count the times, but I never had any real nights out on the town. I didn't know there was any worth having to be honest (sarcastically said). Kilmartin's service station would be my choice place, I probably had more coffees there then any other petrol station in the world.
Most people don't actually know but you were born in England; well that's according to the most accurate website in the world- Wikipedia!
Well if you check recently I took it off of there, but that's not to say it was incorrect information. I just hate people knowing that, because it was just a coincidence, like it just so happened that my parents were living in London at the time. I said it in my last show anyway, but, I was born in London- when I was 3 weeks old they actually moved back to New York. I'm entitled to a British passport, an Irish passport and an American one… I carry them all, rock and roll man! Irish and English [passports] are all the same… cause they're all EU ha!
You actually studied in UCC and got a degree in English & History. What was college life like for you?
It was fine. My first year of college was insane! I actually stopped drinking after 1995, after my first year, and then I went back and repeated first year as a non drinker and have being a non drinker since. College life was ok but it probably was a little different from other peoples college life. It was normal for the start and crazy near the end of first year, and after that I was a non drinker so I didn't have a normal student life. But i did a lot of drama & comedy society in my last year so it was a 50% student like 50 % trying to get my life back together
Were you the type of person to sit in the front or the back row?
I was the person that never went; I was the person photocopying everyones notes in April- that's who I was!
You're not the only funny guy in your family, your brother actually does comedy as well?
Actually we are are not the only funny guys in our family, there are other funny guys in our family; we are the only ones who do it professionally. Aiden (Bishop) started to do comedy when he was still in college in New York, and I told him when he finishes he should come to Ireland 'cause its easier to get stage time here. I thought he would get a bit better and move back to New York, but actually he is still here, we actually live together- we're like a married couple!
Do you think we will see a Des & Aidan bishop or an Aidan or Des Show?
I don't know, I don't know what we would do? We are just brothers but nothing forthcoming anyway… He gigs a lot, but we do sometimes MC together on stage and it's funny.
I notice you're big into Rap & Hip-hop would you ever think of doing an EP? I know you released that Jump Around single in Irish- that was a classic!
I actually didn't release it properly, I wish I done more with it. Well I wrote a Hip Hop Musical back in 2000, and I have done a few raps and bits and pieces over the years, but i think there will be some raps in my next show coming up. I am learning how to play drums so I am going to incorporate it into the show.

Would you work with any irish rappers or have you heard many?
Oh there are great Irish Rappers. There's the guys form Ballymun- Urban Intelligence, great guys. One of them died unfortunately [R.I.P Lunitic], they were great rappers and there's a whole crew of those guys- (Git) G.I.T,  and who's my other man? Ahh I can't remember his name but he's an awesome rapper man-there's some good rappers from the little collective out on Ballymun. Then I seen [a video of] this awesome black dude; actually the Rubber Bandits put it up on twitter. He's from Finglas, he's a pretty good rapper too. So there are good Irish Rappers out there.
Do you think we can do a Hip-Hop scene like the UK has?
No, not a chance man, I mean,  Irish accents sound funny in raps!
Well who knows maybe you could lead it?
I don't wanna lead it man, I just wanna have a bit of craic with it! I am not the hip hop Messiah man, I'm not Moses trying to part the red sea for Irish hip-hop artists to have a scene; I just like hip hop, that's all.
Who would be your favorite rap artists?
Public Enemy when I was younger, nowadays The Roots are definitely up there, Mos Def, Talib Kweli, Immortal Technique- I love him, he's a very intense rapper but I love him. I love Kanye man, and I am very late fan of Jay-Z- I didn't really like him when I was younger, I thought I was not allowed to like him in a way, but I have grown to like him.
So what are you playing out of your ipod or mp3 player theses days?
LCD Soundsystem are probably one of my favourites… It's a tough question! What else do I got…Oh Four Tet- I'm a really big fan of them. I like a lot of electronic dance stuff… Oh and Portishead- Dummy; I've been listening to that again recently a lot, it's one of my favourites.
Rap Ireland would like to thank Des Bishop and Darren Mc Nelis for this exclusive interview.
Des Bishop Official Twitter
Des Bishop Official Website
RI Exclusive : Des Bishop Interview (Audio) by Darren Mc Nelis