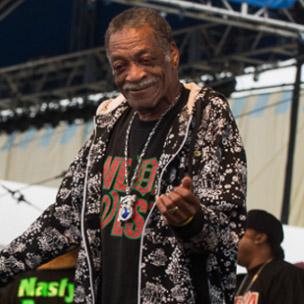 It's not every day that the death of an artist's relative makes a news website, but this one is different. June Bug will be remembered by anyone who came in contact with him or the Snoop Dogg tour over the years. One week after being given one day to live, the uncle to both Snoop Dogg and Daz Dillinger has passed away.
Daz Dillinger confirmed the death of his uncle and revealed that Snoop Dogg was one of the last people to visit Uncle June Bug in the hospital before his passing. He says that this uncle was alert during Snoop's visit, but passed away shortly after.
Snoop's Instagram page has been filled with pictures and messages made in regards to Uncle June Bug following his death yesterday.
In one Instagram post, a picture of Snoop, Uncle June Bug, and Jay Z can be seen along with the caption, "Allways had my bac!!!!"
In another picture, which was taken recently, Snoop is pictured with fellow artist Wiz Khalifa. Along with the picture was this caption: "My bro bro came by to be wit me n a low moment of my life. To lift me n my spirits up love u @mistercap."
Rap Ireland would like to extend condolences to all those who knew Uncle June Bug.