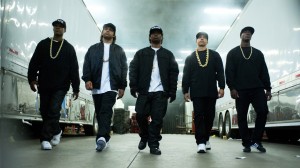 Possibly the most anticipated Hip-Hop movie of the last five years, if not the century, the NWA biopic, Straight Outta Compton has lived up to the hype, taking in over $25 million in it's opening weekend stateside, within just ten days to go to the worldwide release, including Ireland on August 28th.
Not everyone is happy with the movie however, with the LAPD up in arms over how the force are portrayed in the movie. Dennis Zine of the Police Protective League, says "It's a terrible time to release a movie like this. It adds fuel to the fire for hating cops." adding that the officers are portrayed as "beating machines."
Other officers have gone on record saying the movie will put LA officers at risk during a time when police-community relations are extremely tense across the U.S.A.
Irish audiences must wait almost another 2 weeks before the highest ever grossing music biopic reaches our shores, with August 28th penned for nationwide release.