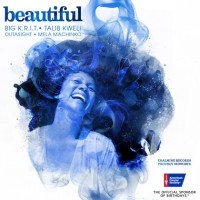 For decades Hip Hop has been placed under a microscope, analysed and dissected by many critics, as the spark to the fire that is gang and gun violence in America. Controversially, this statement maybe perceived as true in nature, but one thing is for certain, Hip Hop Artists speak their minds, their hearts and and in some situations, speak about the great pandemics in the world today.
With the aid of some lesser-known underground artists, who are slowly being to make themselves household names (Big K.R.I.T, Outasight and Mela Machinko), Talib Kweli does what he does best, by making music with substance and universal appeal.
Beautiful, produced by M-Phazes is a well crafted track, that signifies hope for the millions that suffer from cancer everyday. The hook is catchy, the rhyming, as expected is fresh. With that said, support this great cause and buy it from iTunes.