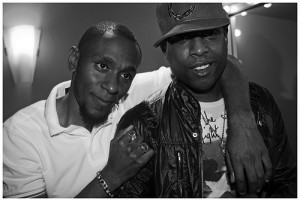 In an interesting interview with MTV, talented MC, Talib Kweli announced that he and Mos Def are working on Black Star project for sometime next year. He stated that-
"Me and Mos [Def] are focused on independence and quality of sound. We're really into a Madlib/Dilla thing right now. Anything you hear from us is probably going to be that type of sound. And it's about independence, so we are trying to find out the right mediums to get the songs out.
When you heard 'Fix Up' on Colbert, it wasn't even mixed; it was something we recorded a week before. Now we're at the mixing stage of the song and we are going to put that out ourselves. We have a bunch of songs recorded. We are just trying to figure out the best way to release them, whether it's going to be one by one, EP or album. Right now, the plan is to release 'Fix Up' and then Yaasin is working on a Yaasin Bey Presents project and then we'll see how it goes"
In the same interview, Kweli went on to condemn Spin Magazine and The Rolling Stone, believing they lack the fundamental understanding of Hip-Hop, arguing that they promote commercial minded rappers, rather than political minded emcees. However, it his belief that these magazines are pro white-rappers which will obviously cause a stir in the Hip Hop industry -
"I'm not saying the white rappers they cover are safe, but it's a white publication that feels very comfortable with rappers when they are not talking about the struggle. Look, I know I'm nice as an MC. Ain't no question in my mind. But when you look at reviews of me in Spin and how they dealt with me throughout my career, they ended up being very snarky about my sincerity and about who I am as an artist. And that's not just myself; I notice that across the board. But that's just one small example."
With that said, watch this space for breaking news surrounding the Black Star release supposedly dated for 2012!