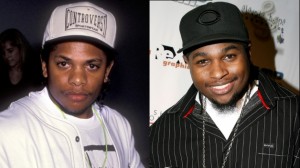 There has been much talk in recent months over the N.W.A biopic, and this past weekend Dr. Dre added fuel to the fire, suggesting that the movie may feature the children of Ice Cube, Dr Dre and Eazy E playing their fathers in the film.
Speaking outside the Red O restaurant in Los Angeles, Dr Dre told photographers "We're talking about it …we'll see what happens,"
While talk about the N.W.A movie has been ongoing over recent months, much focus has also been put on a separate movie around the late Eazy E, who was the original founder of N.W.A. His son, Lil Eazy E, who is also a rapper, is the lead contender to play the role in both movies. Of course the group itself has given birth to a movie star of it's own, with Ice Cube now a firm fixture on movie screens and due to make a return very soon alongside Chris Tucker for the latest installment of the Friday series.
RapIreland.com is your #1 source for celebrity news, gigs, exclusive videos and all the latest in the world of hip hop and R&B music.